Tuesday, November 28, 2023 - 12 pm - 1 pm ET
Join us for our another insightful webinar on the topic of leadership in the field of statistics and data science. This webinar explores the critical role of statistical methods in harnessing the vast potential of electronic health records (EHR) data, showcasing cutting-edge research and practical applications that shape the future of healthcare analytics, improved patient care, and healthcare decision-making. Statisticians and data scientists at any stage in their careers are invited to attend.
Speakers: 
Rebecca Hubbard (UPenn Medicine)
Dandan Liu (VUMC)
Moderator: 
Yates Coley (Kaiser Permanente Washington Health Research Institute)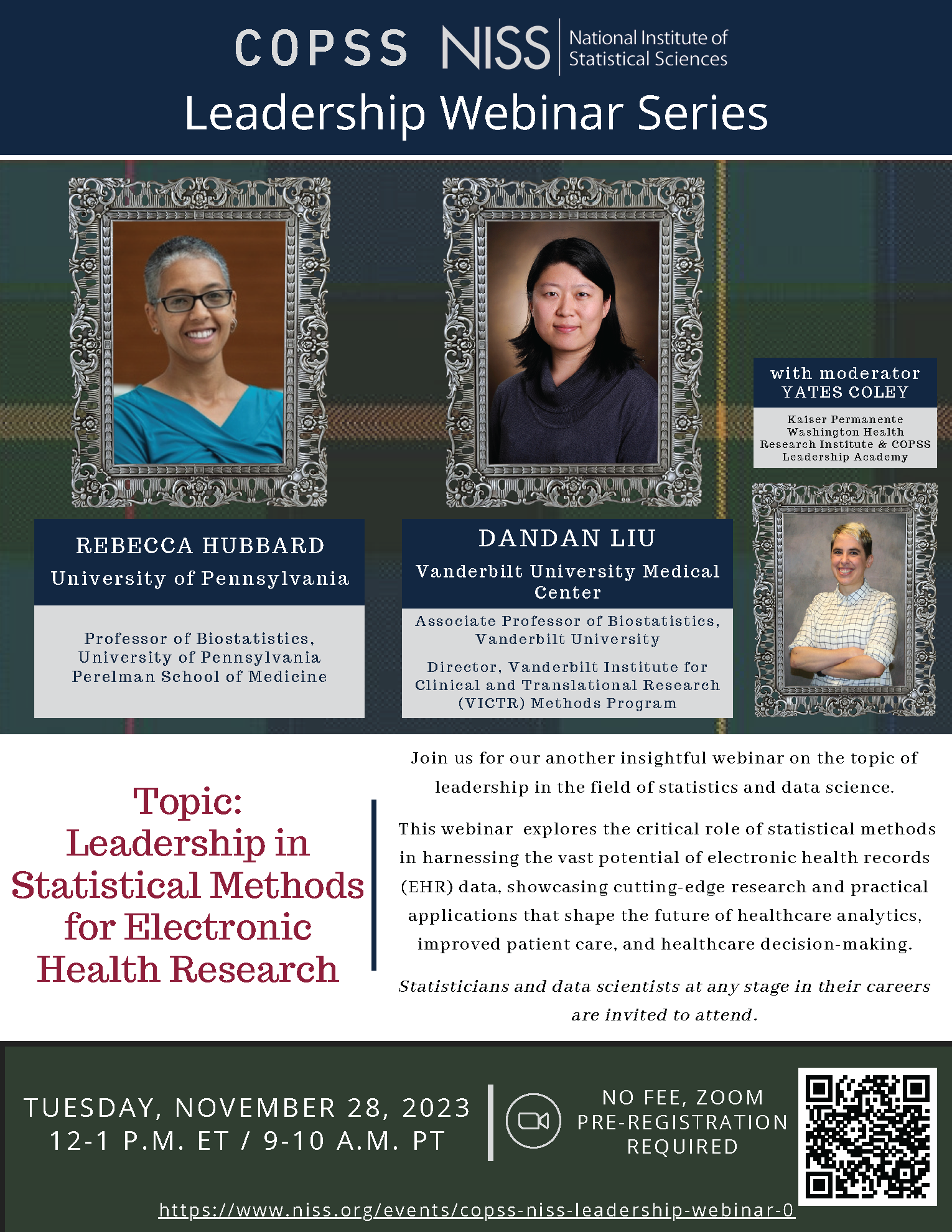 ---
About the Speakers:
Rebecca Hubbard, PhD is a Professor of Biostatistics at University of Pennsylvania Perelman School of Medicine, Department of Biostatistics, Epidemiology, and Informatics (DBEI). Dr. Hubbard's research focuses on the development and application of methods to improve analyses using real world data sources including electronic health records (EHR) and claims data. The data science era demands novel analytic methods to transform the wealth of data created as a byproduct of our digital interactions into valid and generalizable knowledge. Dr. Hubbard's research emphasizes statistical methods designed to meet this challenge by addressing the messiness and complexity of real world data including informative observation schemes, phenotyping error, and error and missingness in confounders. Her methods have been applied to support the advancement of a broad range of research areas through use of EHR and claims data including health services research, cancer epidemiology, aging and dementia, and pharmacoepidemiology.
Dandan Liu, PhD is a biostatistician and an Associate Professor of Biostatistics at Vanderbilt University Medical Center. Dr. Liu's research interests focus on biomarker evaluation, event history data analysis with applications to cardiovascular disease, cancer, and Alzheimer's disease. Specifically, she focuses on statistical method development for risk prediction modeling and its practical implementation in electronic health records system. Dr. Liu is the biostatistician for the Vanderbilt Memory and Aging Project, an investigator in the Vanderbilt Alzheimer's Disease Research Center, and a member of the training faculty for the Vanderbilt Interdisciplinary Training Program in Alzheimer's Disease (T32). Dr. Liu completed a master's degree in statistics at University of Missouri, a doctoral degree in biostatistics at University of Michigan, and a postdoctoral fellowship in biostatistics at Fred Hutchinson Cancer Research Center. She joined the Vanderbilt faculty in 2011. 
About the Moderator: 
Yates Coley, PhD is a biostatistician whose research promotes predictive analytics and learning health systems as a way to improve value quality, and equity in health care delivery. Their statistical research focuses on developing clinical prediction models that are accurate, actionable, and fair. This work spans several statistical domains including repeated measurements, missing data, and machine learning. At KPWHRI, Dr. Coley collaborates on projects across a range of research areas including mental health, breast cancer imaging, aging, and health services. They also lead predictive analytics work and direct biostatistical support for KPWHRI's Center for Accelerating Care Transformation. Their work includes an awarded paper on examining racial and ethnic inequity in two suicide prediction models, which was awarded Paper of the Year at the Healthcare Systems Research Network 2021 Annual Conference. Dr. Coley is a graduate of  the CATALyST K12 Washington Learning Health System Program funded by the Agency for Healthcare Research and Quality and the Patient-Centered Outcomes Research Institute. As part of their training in learning health system research, Dr. Coley studied current barriers to implementing evidence-based predictive analytics tools to help develop prediction tools that can be deployed and sustained in clinical care. Their research plan also focused on statistical methods to address racial bias in clinical prediction algorithms. Before starting as an assistant investigator at Kaiser Permanente Washington Health Research Institute (KPWHRI) in 2016, Dr. Coley was a postdoctoral research fellow at Johns Hopkins Bloomberg School of Public Health. There, they worked with urologists to develop a prediction model that enables personalized management of low-risk prostate cancer. Dr. Coley completed their PhD in biostatistics at the University of Washington. Their dissertation research proposed methods to improve effectiveness estimates in HIV prevention trials by accounting for unobserved variability in risk. See full bio
---
About the COPSS-NISS Leadership Webinar Series
COPSS (Committee of the Presidents of Statistical Societies) and NISS have come together to organize and host a new webinar series focusing on leadership in statistics and data science. Plan to attend these webinars every month during the academic year! Visit the COPSS-NISS Leadership Series Page for previous webinars.
The COPSS-NISS Leadership Webinar Series is co-organized by the Committee of the Presidents of Statistical Societies (COPSS) Emerging Leaders in Statistics and the National Institute of Statistical Sciences (NISS). The purpose of the webinar series is to promote leadership skills for members of the statistical societies at any stage in their careers. The series features conversations with leaders throughout the discipline, including leaders from major academic and government institutions, and companies. Invited speakers share their leadership stories and answer questions about their experiences. Each webinar is moderated by a member of the COPSS Emerging Leaders in Statistics program.
Access the Full COPSS-NISS Leadership Webinar Series
Full Playlist | COPSS-NISS Leadership Webinar Series: https://www.youtube.com/playlist?list=PLoRtupvDJTjvFukMcO6NfDr0GvxDsIj81
Jan 24, 2023 | COPSS-NISS Leadership in Academia: Click here to watch
Feb 28, 2023 | COPSS-NISS Social Justice and Community Leadership: Click here to watch
Mar 28, 2023 | COPSS-NISS Leadership in Statistical Research: Click here to watch
Apr 28, 2023 | COPSS-NISS Leadership in Government: Click here to watch
Host
National Institute of Statistical Sciences
COPSS
Website
Location
Zoom Webinar
United States
Policy