The NISS Affiliates Program brings together statistical and mathematical science professionals from all sectors - academia, industry, government / national lab - to support research discussions, information dissemination, human resource development and networking.
What are Some of the Benefits of Becoming an Affiliate?
One guaranteed acceptance to each large NISS conference or workshop
Two affiliate acceptances to small NISS workshops each year (under 45 attendees)
Annual affiliates meeting held in conjunction with a national society meeting or with a NISS hosted or sponsored conference
Affiliate Award Fund for travel to/from NISS workshops.  See links to brochures below for more details
Highlights about affiliates in monthly affiliate updates, quarterly NISS newsletter and other communications
Jobs posted on the NISS website with unlimited word count
Affiliate Membership Benefits for:
Academia         Industry         Government / National Laboratory
---
What Other Benefits Do We Get By Becoming an Affiliate?
Affiliates have expanded roles and enlarged opportunities in program planning and development for NISS.  For example, Affiliates are represented by a Liaison, with the Liaison selected from applicants nominated from the Affiliates.
The role of the Affiliate Liaison as the key individual connecting NISS to the Affiliate has the responsibility for distribution of Affiliates benefits (e.g., guaranteed acceptances to NISS conferences) and for expenditure of the Affiliate's Award Funds.  Affiliates are urged to appoint an Associate Liaison to strengthen the connection to NISS.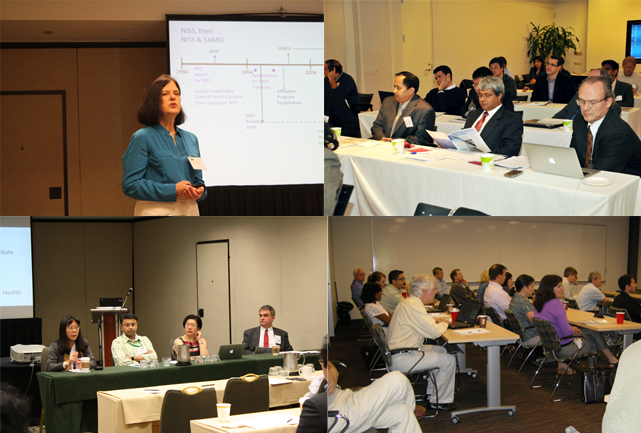 Affiliate Liaisons and Associate Liaisons will receive regular reports documenting participation from their organizations in NISS activities, as well as regular announcements of opportunities for Affiliates at NISS.
Affiliate Award Funds (AAF) can be used to support travel by Affiliate researchers (at any level, at the discretion of the Affiliate Liaison) to NISSsponsored meetings.  The deposit (from the Affiliate fee) in one membership year will continue to be available through the subsequent membership year and then will expire.  All balances will expire automatically upon non-renewal by an Affiliate.
Travel awards from an Affiliate's Award Fund are administered by NISS upon request from the Affiliate Liaison and can cover travel expenses plus registration fees for eligible conferences and events.  Eligible meetings include NISS conferences, workshops and events plus NISS co-sponsored conferences and workshops.  Travel to national professional society meetings, notably JSM, SIAM, IMS, ENAR, WNAR, etc. is ineligible.
Affiliate Award Funds can also be used upon request by the Affiliate Liaison to support NISS co-sponsored meetings hosted by the Affiliate, up to $1,000 per meeting or conference.
Affiliate-generated activities like workshops and conferences are regular parts of the Affiliates Program with mechanisms to ensure that these are scheduled and implemented.
Affiliate privileges include priority and/or guaranteed acceptances to NISS conferences, with express inclusion of new or clarified associated privileges for Affiliates' junior associates, postdocs and students.
Opportunities, like sharing postdoctoral fellows and planning joint programs with NISS, are highlighted with mechanisms established to implement them.
Affiliates presence on NISS webpages include links to Affiliates' own web pages, articles highlighting both institutes and Affiliates, events calendars including co-sponsored Affiliate-hosted conferences, and open positions at Affiliates.
How Do I Get More Information to Become an Affiliate?
Visit our Become an Affiliate page and fill out the form to let us known you are interested in becoming an affiliate.  Alternatively, contact the NISS office via email at officeadmin@niss.org.