The Ingram Olkin Fund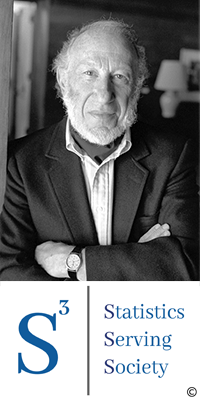 NISS is creating a series of Forums, named in memory of Ingram Olkin, under the broad theme of Statistics Serving Society (S3).  The first forum was held in June 2019 to engage statisticians in research with criminologists and sociologists to better understand the current public health crisis related to gun violence.  After the pandemic hit, we went virtual with the second forum series, Unplanned Clinical Trial Disruptions, which began in July 2020.  Additional forums on Algorithm Bias and Social Justice, and COVID-19 and the Schools: Modeling Openings, Closings, and Learning Loss, were held in Fall 2020, and continue in 2021. To support these Statistics Serving Society (S3) forums, please indicate the Ingram Olkin Fund on your check or credit card memo line.  
The NISS Fund
Gifts of any size to The NISS Fund enable us to increase our value to the community and to pursue exciting new opportunities.  NISS is a place where the statistics community convenes together to serve the nation in many critical roles.  It is where industry, academia and government collaborate to solve some of the most interesting and complex issues.  At the same time, we also serve the statistical sciences community that created us, through the creation of new opportunities for statisticians, human resource development - especially of early career researchers, and providing multiple paths for collaboration and networking across disciplines and organizations.  Also, please keep in mind that your employer may match your contribution!  Inquire with your offices Human Resources representative.
NISS is a 501(c)(3) corporation, and all gifts are tax-deductible.  To contribute by credit card: click on DONATE, PLEASE BE CERTAIN TO:
Fill in all required information (marked by an *)
Fill in the Description box on page 2 with your specific cause or type in "Donation to NISS for (specify year)" 
The mailing address must coincide with the address associated with the credit card being used
Be sure to click on the toggle for Tax Exempt and click on YES
If you prefer to contribute by check, please make payable to NISS and mail your check to:
1750 K Street, NW, Suite 1100, Washington, DC 20006-2306 
In the memo line, please write "The NISS Fund" or your specific cause.
If you have any questions, please call us at (202) 800-3880.
Our three primary emphases are:
RESEARCH, through high-impact projects conducted with partners that include the Defense Threat Reduction Agency, Education Statistics Services Institute, Hamner Institutes for Health Sciences, National Agricultural Statistics Service, National Cancer Institute, National Center for Education Statistics, National Center for Health Statistics, National Science Foundation and Transportation Research Board, as well as our sister institute, the Statistical and Applied Mathematical Sciences Institute.
PEOPLE, especially the more than 70 NISS postdoctoral fellows, who are now scattered around the world conducting significant and important research in statistics and other disciplines.  In addition, more than 50 statistical and other scientists participate in our projects, drawn not only from the partners, but also from more than 20 universities, corporations, and research institutes.
RELATIONSHIPS, through its award-winning affiliates program, workshops on topics ranging from financial risk to total survey error to computational advertising, and other science, social science and policy challenges that data science can address, NISS builds relationships within the statistics community, constructs bridges across sectors and creates new connections with other disciplines.  The goal and the result is an enlarged future for statistics.
Your donation to NISS can be designated for specific activities in support of this NISS mission, you just need to Fund on your check or credit card memo line.
We THANK YOU for your contribution to NISS and hope your support will allow us to impact you or your organization in a positive way in the future!
The more we do, the better we understand what else we can do.
We need your help!
If you need any clarification with the IRS regulations, please click on https://www.irs.gov/charities-non-profits/substantiating-charitable-contributions
Support NISS through your purchases with AMAZON SMILE!

The AmazonSmile Program allows Amazon shoppers to direct a portion of sales to a charity of their choice. To shop at AmazonSmile simply click on this link (https://smile.amazon.com/ch/56-1746337) that will take you directly to the option to select the National Institute of Statistical Sciences as your charity of choice to ensure that 0.5% of all of your eligible purchases directly support NISS, courtesy of the Amazon Smile Foundation.
To learn more, please see complete AmazonSmile program details.