Tuesday, February 28, 2023 | 12 - 1 pm ET / 9 - 10 am PT
[Please Note:  This event has already taken place.  Please review the News Story for this event to read about what happened.] 
---
Join us for our another insightful webinar on the topic of leadership in the field of statistics and data science.  The focus of this webinar is on leadership to advance social justice and human rights in communities near and far. Hear from three leading statisticians doing high-impact work to advocate for populations experiencing discrimination and to improve the health of underserved communities.
The first speaker is Patrick Ball  who is Director of Research at the Human Rights Data Analysis Group. The second speaker for this event is Melody Goodman, Vice Dean for Research & Professor of Biostatistics, New York University. Our third speaker is Mary Gray, Distinguished Professor, Department of Mathematics & Statistics, American University. Our distinguished panelists will share their leadership journeys and insights in a discussion moderated by Dr. Kristian Lum, Research Associate Professor at the University of Chicago's Data Science Institute.
Panelists
Patrick Ball, Director of Research, Human Rights Data Analysis Group (HRDAG)
Melody Goodman, Vice Dean for Research & Professor of Biostatistics, New York University
Mary Gray, Distinguished Professor, Department of Mathematics & Statistics, American University
Moderator
Kristian Lum, University of Chicago's Data Science Institute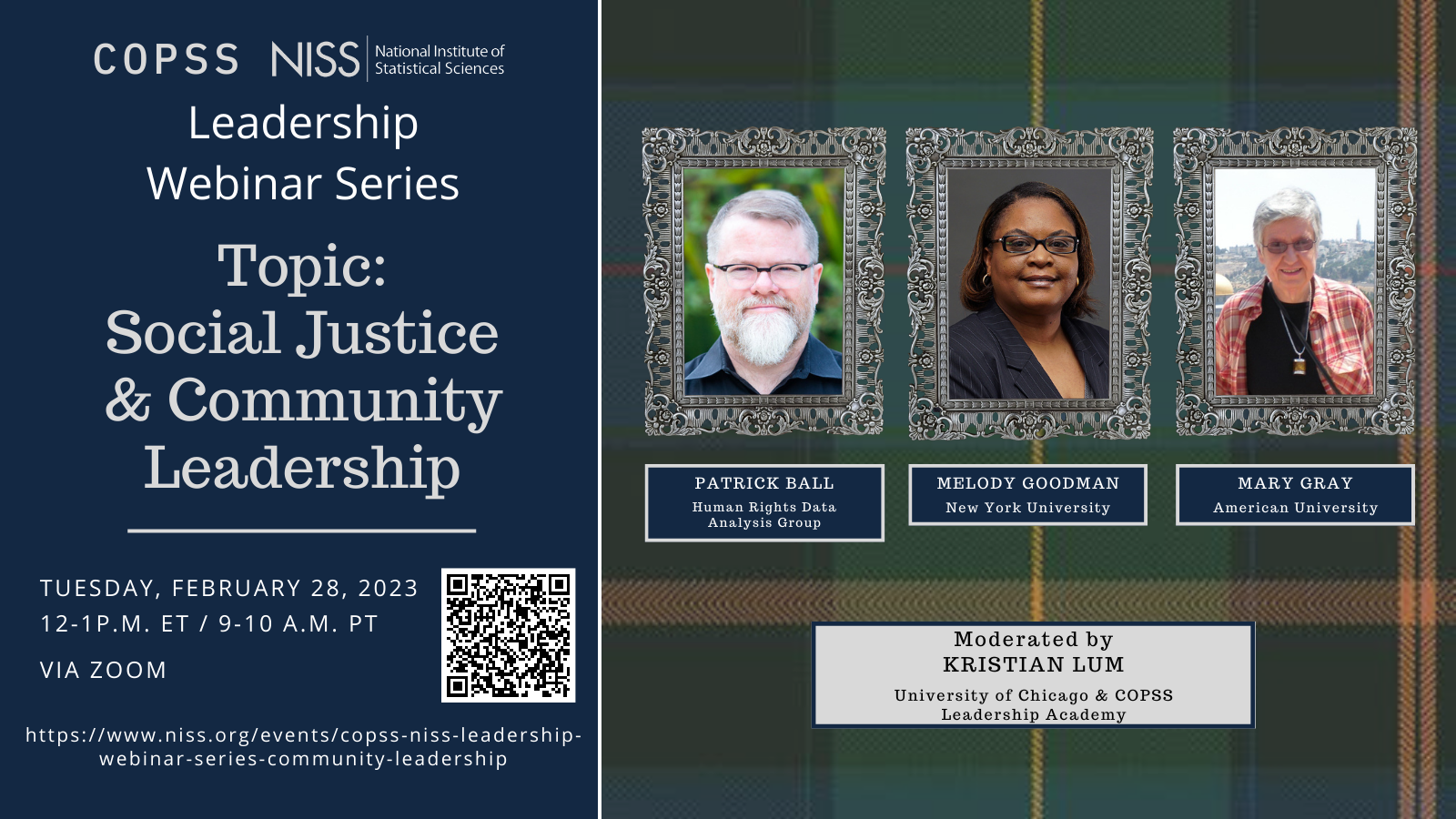 ---
The COPSS-NISS Leadership Webinar Series is co-organized by the Committee of the Presidents of Statistical Societies (COPSS) Emerging Leaders in Statistics and the National Institute of Statistical Sciences (NISS). The purpose of the webinar series is to promote leadership skills for members of the statistical societies at any stage in their careers. The series features conversations with leaders throughout the discipline, including leaders from major academic and government institutions, and companies. Invited speakers share their leadership stories and answer questions about their experiences. Each webinar is moderated by a member of the COPSS Emerging Leaders in Statistics program.
Organizing Committee
Natalie Dean (Chair), Emory University, COPSS Leadership Academy
Claire Bowen, Urban Institute, COPSS Leadership Academy
Amita Manatunga, Emory University, COPSS
Jim Rosenberger, NISS 
David S. Matteson, NISS, Cornell University 
Mary Ryan, Yale University
Lingzhou Xue, Penn State, COPSS Leadership Academy, NISS 
---
Agenda
About the Speakers
Patrick Ball has spent thirty years doing quantitative analysis for truth commissions, non-governmental organizations, international criminal tribunals, and United Nations missions. His work has been conducted in El Salvador, Ethiopia, Guatemala, Haiti, South Africa, Chad, Sri Lanka, East Timor, Sierra Leone, South Africa, Kosovo, Liberia, Perú, Colombia, the Democratic Republic of Congo, and Syria. Patrick began working in the human rights field in El Salvador in 1991. From 1993 to 2003, he worked in several capacities in the Science and Human Rights Program at the American Association for the Advancement of Science, where he began recruiting colleagues to build HRDAG. While working on human rights cases in Guatemala during the late 1990s, Patrick worked with partners to adopt strong cryptography to protect witnesses. From 2003 to 2013, he was Vice President for Human Rights Programs and the Chief Scientific Officer at Benetech, a nonprofit technology company in Silicon Valley. While at Benetech, he helped to develop Martus, a free, open source software application that allows users anywhere in the world to securely gather and organize information about human rights violations. From 2013 through 2015, Patrick was Executive Director of HRDAG; on December 1, 2015, he became HRDAG's Director of Research.
Melody Goodman is the Vice Dean for Research and a Professor of Biostatistics at New York University. Dr. Melody Goodman's efforts seek to understand the social risk factors that contribute to health disparities in urban areas, with the goal of developing culturally competent, region-specific, and evidence-based solutions through collaborative activities with community members, community-based organizations, faith-based organizations, and other community health stakeholders. The purpose of her work is the development of solutions for improving health in minority and medically underserved communities. Dr. Goodman conducts applied biostatistical and survey research for community-based interventions and health disparities research with a strong focus on measurement. Additionally, through academic-community collaborations, she implements, evaluates, and enhances the infrastructure of community-engaged research, in order to mitigate health disparities. As such, Dr. Goodman is the Principal Investigator of a Patient-Centered Outcomes Research Institute (PCORI) grant that aims to validate and implement a quantitative survey measure to assess the level of community engagement in patient-centered outcomes research (PCOR) and clinical effectiveness research (CER) studies from the community stakeholder perspective. Previously, Dr. Goodman has been subcontracted by the National Human Genome Research Institute/NIH to analyze patterns of beliefs about the genetic causation of health conditions and health behaviors among community health center patients. She was the Principal Investigator on a NIH Partners in Research grant entitled Community Alliance for Research Empowering Social change (CARES). With numerous funders supporting her work, she has published over 70 peer-reviewed journal articles.
Mary Gray is a Distinguished Professor at the Department of Mathematics & Statistics at American University in Washington, DC. As a statistician and lawyer, Professor Gray's areas of research include applications of statistics to human rights, economic equity, legal issues, and education. She is the founder of the Association for Women in Mathematics, a fellow of the American Statistical Association and the American Association for the Advancement of Science, and is a recipient of the Presidential Award for Excellence in Science, Engineering and Mathematics Mentoring as well as honorary degrees for from three institutions. The author of two books and over eighty articles, she has lectured throughout the United States, Europe, Latin America and the Middle East. Professor Gray serves as the chair of the Board of Directors of the American Middle East Education and is a member of Statistics without Borders.
About the Moderator
Kristian Lum is a renowned statistician and machine learning researcher who focuses on fairness, accountability and transparency, has joined the Data Science Institute as a research associate professor.  Lum's career to date spans work at Twitter, the Human Rights Data Analysis Group, the University of Pennsylvania, and Virginia Tech. She is a founding member of the Executive Committee of the ACM conference on Fairness, Accountability, and Transparency (FAccT) — the premier venue for work on the societal impacts of algorithmic systems — and was named an Emerging Leader in Statistics by the Committee of Presidents of Statistical Societies and a Kavli Fellow by the National Academy of Sciences.  A female scientist sitting in front of a microphone.Her research includes the development of new statistical methods and open source software packages for fairness, record linkage, and population estimation. She has assessed models used for predictive policing and risk assessment, finding that such software often reinforces or amplifies racial bias in law enforcement and incarceration, and worked with advocacy and legal groups around their usage.
Event Type
NISS Hosted
NISS Sponsored
Host
National Institute of Statistical Sciences
Sponsor
National Institute of Statistical Sciences
Cost
Registration is free.
Website
Policy