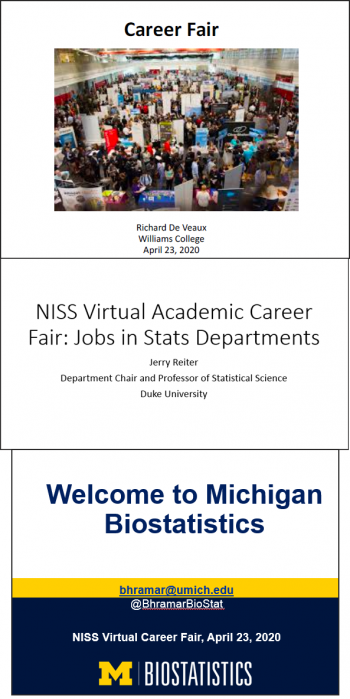 On Thursday April 23rd three distinguished professors of statistics shared their experiences and provided advice about what life is like as a statistician at different academic institutions.
Williams College, a liberal arts college, is located in the very northwest corner of Massachusetts.  Dr. Richard De Veaux began by talking about how he started at Williams College in 1994 as the sole statistician into a what was then only a Department of Mathematics.  However, over the years the number of statistics professors at Williams has grown and it is now the Department of Mathematics and Statistics.  In thinking about beginning as an assistant professor at a place like Williams, Dr. De Veaux reviewed a typical application time line which begins in early November, even October sometimes – so it makes sense to get yourself ready early.  His advice was to figure out who you are, "Is your passion in teaching, research and/or consulting?  All positions involve all three of these but the emphasis will be different."  What is most important in preparing for a visit?  "Know who you are visiting!  Do your homework about the institution/department/faculty you will be visiting!  Get experience working with a team and practice your presentation skills – give talks!"  Further, he emphasized that desire and passion are perhaps the most important attributes a faculty candidate can demonstrate..  
Duke University is a research university therefore Dr. Jerry Reiter focused his comments on positions in academic institutions similar to his university where he is Chair of the Department of Statistics.  Dr. Reiter described the difference between tenure tracks, teaching tracks and research tracks as types of academic positions.   He emphasized that, "It is important to do top-notch research to get tenure at a place like Duke, but even though you might be a top-notch researcher, you cannot be a poor teacher and expect to get tenure at Duke."  The point being that you need to have experience and passion in both of these areas. He encouraged candidates to seek experiences in graduate school that are tailored to the type of position they are interested in.  At the same time, he also emphasized that the selection of one position does not mean that you are in that track for life.  Making a change after a number of years might bring its own challenges, but it is not impossible to change tracks.  He also provided a number of critical tips for those on the job market getting ready to apply.  What are the important things a hiring committee looks at?  You will definitely what to review his advice!
Dr. Bhramar Mukherjee is Professor of Biostatistics at the University of Michigan.  As a biostatistician her remarks during this session focused on the unique differences that come into play because positions in biostatistics are likely housed within a department in a college of medicine or public health. After reviewing the structure and support of her college and department she focused on the attributes of what makes a good department and the challenges that departments face.  Understanding these logistical issues is important when seeking a position as a biostatistician within a large research institution because of the unique mission and strong ties to other research partners.  Among her advice to those on the job market, Dr. Mukherjee highlighted "communication, collaboration and computation" as keys areas of preparation and experience besides reviewing the hiring timeline her department uses as well as the common attributes her department is looking for in candidates.
All three of the panelists spent a good deal of time during the session responding to a wide variety of great questions.  Questions from attendees included, "What kind of support is provided for beginning assistant faculty?"  (Support differs among institutions…)  And, "How does one demonstrate teaching when teaching opportunities might not exist?" (A real issue in some departments, perhaps take advantage of summer opportunities and know the difference between presenting and teaching!) . Additional questions included: "What is it like mentoring undergraduate students?  What opportunities exist?"   "Should I apply for positions in popular topics/subfields?" "How do you maintain a healthy work/life balance in academia?"  "What are the issues related to transitioning from a position in industry to academia?" "What statistical techniques are most desirable?" All three panelists shared insights on these and other questions but it seems that the bottom line advice for someone looking for an academic position was, "Know what you are good at and what you are passionate about!"
Piaomu Liu, (Bentley University) served as the moderator for this session.  She introduced the session, the panelists and expertly helped present the wide variety of questions that were posed by NISS Affiliate attendees.
Below you can find a recording of this session along with copies of the slides that the speakers used. The slides not only provide you with the key points that were offered but also include links to additional resources that should not be ignored!  (These are made available here for NISS Affiliates.  They will be made available to the public May 23, 2020.)
Recording of the Session
Slides Used by Speakers
Richard De Veaux: "Career Fair"
Jerry Reiter: "NISS Virtual Academic Career Fair: Jobs in Stats Departments"
Bhramar Muhkerjee: "Welcome to Michigan Biostatistics"
Friday, April 24, 2020 by Glenn Johnson