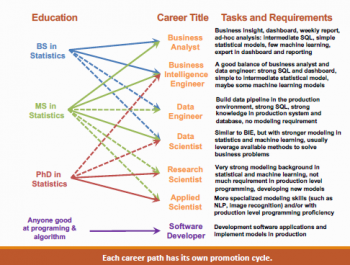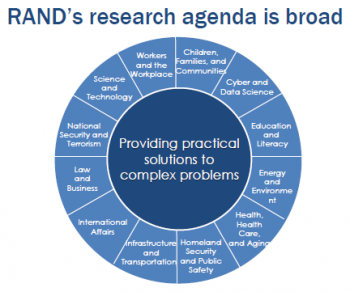 On February 19, 2020 NISS hosted a "Third Industry Career Fair".  This time the senior statisticians were gathered from Amazon (Ming Li (second from left), Research Scientist), AT&T (Subho Majumdar, Senior Inventive Scientist, Data Science & AI Research), Medtronic (Theodore Lystig, Senior Director of Corporate Biostatistics), and RAND Corporation (Bonnie Ghosh-Dastidar, Senior Statistician and Head, RAND Statistics Group).  It was a unique opportunity to get their advice concerning the hiring and interview process and to hear about the employment prospects and career paths within their own organizations.  Ya Su (left), Assistant Professor of Statistics from the University of Kentucky served as moderator.
Ming Li from Amazon did a wonderful job laying out the types of skills that statisticians and data scientists bring with them from their training into the workplace. He then was able to match these skills to the career titles that exist at Amazon along with some examples of the types of tasks and requirements that individuals in these positions are expected to become involved in (see slide to the right).  The expectations for statisticians are to be involved in helping to provide solutions that challenge the goals of the company that you work for.
Ming was followed by Subho Majumdar from the AT&T Labs Data Science & AI Research group.  Subho provided a short background of where AT&T Labs has come from historically, which led into a fascinating review of a range of projects and challenges that have been or are currently being worked on.  Throughout his comments, he emphasized what statisticians need to bring to the table in order to face the challenges that are presented.  Part of this included a quick walk through of an example of viewership-centric curation of video content. 
Theodore Lystig is a Senior Director of Corporate Biostatistics at Medtronic, a company he called "the biggest company you have probably never heard of!"  Founded in the 1940's, Medtronic is involved in providing medical devices and therapies for patients with a variety of medical needs with over 90,000 employees worldwide.  This includes over 180 statisticians and statistical programmers who focus on biostatistics and industrial statistics. Outside of the comments about the statistical work within Medtronic, perhaps the most important information conveyed was the down to earth, common sense advice about the application and interviewing process that everyone looking for a position must read!  These tips and suggestions are SO important for those on the job market to take heed of.
The final speaker was Bonnie Ghosh-Dastidar, Senior Statistician and Head of the RAND Statistics Group. Bonnie reminded the audience that unlike the previous speakers her company is a non-profit, public policy think tank involved in a wide range of research (see slide to right), the topics generated from the current critical needs of society.  These include topics within national security, energy, environment, healthcare, education and a host of others.  Apart from being a research organization, RAND offers a PhD program in policy analysis. RAND is a unique environment, which is not quite a university or management consulting but with the capabilities of both.  Bonnie demonstrated that, consequently, the challenges for statisticians are just as diverse! With this in mind, she reviewed the skills needed, as well as the career path, for statistics positions at RAND.  In addition, she included many general suggestions that would apply to any applicant, echoing the suggestions and tips given by the other speakers. She emphasized that it is important to find a career that you are passionate about to be happy and successful.
As moderator, Ya Su shared the questions that had been offered by the attendees and all of the speakers contributed to the conversation that ensued.  Below you can find a recording of this session along with copies of the slides that the speakers used. The slides not only provide you with the key points that were offered but also include links to additional resources that should not be ignored!  (These will be made available to the public March 20, 2020.)
Thursday, February 20, 2020 by Glenn Johnson