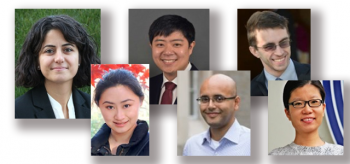 In the past few years, NISS has hosted a large number of events that were available to both NISS Affiliate institutions and the general public. Starting in September of 2019, NISS has begun to sponsor a series of virtual career fairs that were only available to graduate students, faculty, statisticians and data scientists at NISS Affiliate institutions. NISS is able to put on these activities in large part due to the active participation of NISS liaisons and aspiring young faculty members at NISS Affiliate institutions.  NISS is grateful to their participation because their activism has not only made the events relevant, but also fun. 
"NISS events offer NISS liaisons and statisticians at the early stage of their career an opportunity to develop their organizational, professional and networking skills. In return, their participations offer NISS a fresh look into the future of the statistics and data science profession. This is a win-win partnership for both NISS and the young statisticians." Christy Chuang-Stein, Chair of the NISS Affiliates Committee.
NISS wants to acknowledge the following NISS liaisons. Meanwhile, NISS encourages other liaisons to share their ideas with NISS and volunteer to help plan an NISS event. 
Esra Kurum, Assistant Professor at the University of California, Riverside is a member of the NISS Affiliates Academic Affiliate sub-committee.  Last year she spoke as a panelist at one of the first virtual career fairs and has also served as the moderator for several events since then.   Piaomi Liu (Assistant Professor, Bentley University) and Kevin Lee (Assistant Profession, Western Michigan University) are also members of the NISS Affiliates Academic Affiliate sub-committee and both have (or will) serve as moderators of virtual events. Nathan Cruze, mathematical statistician in the Research and Development Division at USDA's National Agricultural Statistics Service (NASS) is a member of the Affiliates Committee. Nathan has organized the first two government career fairs and served as the moderator for both events. Samanta Basu, (Assistant Professor, Cornell University), and Ya Su, (Assistant Professor, University of Kentucky), have served as moderators at recent virtual career fairs as well. 
As Christy stated above, these experiences gave Esra, Piaomi, Kevin, Nathan, Samanta and Ya a chance to meet and interact with distinguished and experienced senior statisticians and put them in the thick of the event's conversation.  Their participation helped gather enthusiasm towards NISS events within their own home institutions. In addition, their input helps move NISS in a direction of the future as they are beginning to define it.
"As NISS has evolved into a national virtual institute, it's great to see the involvement of junior faculty who contribute to the profession through their involvement in the planning of affiliate workshops and events that foster professional development."  Jim Rosenberger, NISS Director
Want to get involved in important professional service?  Want to help make a difference by joining a diverse and committed group working for the good of the statistical community? Contact the NISS Affiliate Liaison at your institution, or contact NISS directly! 
 
Friday, May 15, 2020 by Glenn Johnson