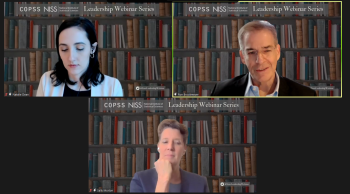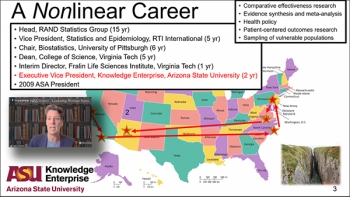 The Committee of the Presidents of Statistical Societies (COPSS) Emerging Leaders in Statistics and the National Institute of Statistical Sciences (NISS) is hosting a new webinar series that will focus on leadership. The purpose of the webinar series is to promote leadership skills for members of the statistical societies at any stage in their careers. The series features conversations with leaders throughout the discipline, including leaders from major academic and government institutions, and companies. Invited speakers will share their leadership stories and answer questions about their experiences. Each webinar will be moderated by a member of the COPSS Emerging Leaders in Statistics program.
This inaugural webinar focused on the topic of leadership in academia. The speakers for this first event included Professor Sally Morton, the Executive Vice President of Arizona State University's Knowledge Enterprise.  She was also previously Dean of the College of Science at Virginia Tech.  She was joined by Professor Ron Brookmeyer, Dean of the UCLA Fielding School of Public Health. The session was moderated by Dr. Natalie Dean of Emory University.
Both of the speakers provided a quick overview of their own personal career path, how they got to where they currently are, but after this the majority of the session was spent focusing on questions that were posed by the moderator or fielded from the many attendees that had joined this session.  Here are a just a few of the points that were made by the speakers during this interactive session.
As a part of this discussion, Sally Morton explained that building and supporting the communities in your field is necessary and highlights how leaders can do this efficiently. 
"People are all that matter. It's important to understand others' situations and personal challenges that we can listen to as a leader. Find out about the person who is a leader and learn what their core values are. The only thing that really matters is the people." 

Sally Morton (Arizona State University)
Some of the points that she posed included that as a leader you need to think about what are some of the most important decisions you make? When and how you make these? And, identify which questions need to be made quickly and what can wait. In additions she mentioned that you always must remember that you don't need to make decisions by yourself. It's important to have a structure around decisions and you should be clear about your decision that you're making. 
"People need to know how the decision is going to be made, and even if they don't agree with it, at least they understand how it's made."

Sally Morton (Arizona State University)
Ron Brookmeyer followed and one his main points focused on balancing equity.  What is the right thing to do, and how do you distribute resources efficiently? How do you grow as a leader? Ron's answer: Listen! Ron emphasized that it is very important to try to understand different perspectives and try to keep an open type of conversation going. You can receive formal training and you can even get a coach to help you with this. 
"Disruptive innovation" investments support research. "Leaders can be helpful to move resources to people who need it and get influence others to do the same."
Ron Brookmeyer (UCLA)
Ron also talked about challenges that academic leaders face including: 
Helping efforts to solve the problem of dropouts and identifying these impacts on society as well as issues related to access and the scaling of funding. 
Addressing the issue of optimizing spaces and help create options for remote work. 
Helping find ways for graduate students build their careers.  
Understanding the diversity of our students, and help bring faculty in that look like our student body, beringing everyone together under one roof. 
Through the discussion, both of the speakers were able to share so much of their rich experience from their leadership roles.  Other questions that were posed included: What has surprised you about being a leader? What are the most important decision you make?  How do you advocate? How do you think the statistics associations can support more statisticians getting into leadership positions?  What are some of the common mistakes that are made? and What skills/knowledge would you recommend to prepare?  But there were many others!
What a wonderfully informative and personalized session. Didn't get a chance to attend, or want to review the advice that was given?  Check out the recording of the session below.
Recording of the Session
Wednesday, February 1, 2023 by Glenn Johnson