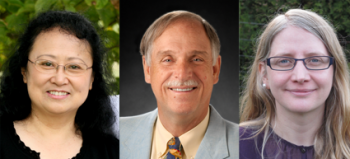 Nancy Flournoy, Chair of the NISS Ingram Olkin Forum Committee, founding member of NISS and Distinguished Professor Emeritus at the University of Missouri, opened the second forum session by sharing additional insights about the late Ingram Olkin, whose career and life's work is being honored through these gatherings of statisticians and researchers around an important societal challenge.
During Day One of the forum we heard from three experts from various agencies within the National Institutes for Health concerning the impact of the COVID-19 pandemic on clinical trials in progress, about to start and even those being planned.  Day Two brought together Lilly Yue, Deputy Director, Division of Biostatistics, Center for Devices and Radiological Health at the FDA, G. David Williamson, Director, Office of Science, National Center for Environmental Health at the CDC and Aldana Rosso, a representative of the European Medicines Agency, EMA to share their perspectives.  
What are the implications of these disruptions?   What strategies can be put into place to to insure the integrity of statistics using data that have already or will not be collected?  Are there changes to methods or plans that researchers can put into place moving forward?    
Over 120 participants were logged in to hear what these speakers had to say and ask questions.
Day Two: CDC, FDA, and EMA Perspectives
Lilly Yue is a Deputy Director in the Division of Biostatistics, Center for Devices and Radiological Health in the U.S. Food and Drug Administration (FDA).  Lilly began by sharing two documents that have been published by the FDA, the FDA Guidance on Conduct of Clinical Trials of Medical Products during COVID-19 Public Health Emergency, and the Statistical Considerations for Clinical Trials During the COVID-19 Public Health Emergency.  One point that all of the speakers emphasized often was "Ensuring the safety of trial participants is paramount."  Lilly also shared specific recommendations in terms of data integrity, amending statistical analysis plans and dealing with missing data, however urged consultation with the relevant FDA review division as an important recommendation as all trials are unique. In addition, propensity score-based methods for leveraging external data source were discussed, in the consideration of mitigating study power loss caused by unplanned clinical trial disruptions due to the COVID-19 pandemic.
Lilly was followed by G. David Williamson, who is Associate Director for Science, National Center for Environmental Health (NCEH) and Agency for Toxic Substances and Disease Registry (ATSDR), Centers for Disease Control and Prevention (CDC).  David shared an example of an ATSDR study that focuses on a large class of man-made chemicals called per- and polyfluoroalkyl substances (PFAS).  These are chemicals that have been used extensively since the 1950's, and are found in many consumer products like cookware, water-repellent clothing, stain-resistant fabrics and carpet, and some cosmetics and fire-fighting foam. Data collection at some sites had been completed or were in progress and others had not started when all data collection was halted on March 12 because of the risk from the COVID-19 pandemic.  David shared what steps were taken as a result of this stoppage, and discussed the key issues of consideration involved in restarting the study. These included public health considerations as well as scientific/statistical ramifications resulting from any change in data collection and study design.
The final speaker of Day Two was Aldana Rosso, a Senior Adviser in Biostatistics at the Danish Medicines Agency. She shared the European Medicines Agency response to the pandemic.  Aldana emphasized the major points of this response including a 'safety first' mentality, the need for a case-by-case assessment of implications on a clinical trial, and the need to collect all trial related information.  This information would be used to assess risk in moving forward and whether any substantial changes to a study's protocol is necessary.  Aldana's main point was the importance of recording, reporting, assessing, and the seeking of advice before reacting and making changes to clinical trials.
Always the sign of a good session, forum organizing committee members Adam Lane (University of Cincinnati) and Sergey Tarima (Medical College of Wisconsin) had their hands full as moderators for this session because the questions came fast and furious! All three panelists were busy contributing responses to a variety of questions that had the speakers thinking deeply about the implications of their remarks and how the issues are best understood.  Review the recording of the session below in order to obtain a full understanding of the discussion that followed the presentations.
Be Involved in What Follows!
Following Day Two a questionnaire will be sent out soliciting interest for active participants in working sessions (Days 3-7) where attendees are encouraged to request a role such as discussant, moderator, recorder or note taker. After invited talks, participants will be assigned to small discussion groups in breakout rooms, regrouping for reporting, syntheses, and writing on the topic of the day.
Recording of the Session
Slides Used by the Speakers 
Nancy Flournoy, NISS, University of Missouri
Introductory Comments: "Unplanned Disruptions in Clinical Trials - Day Two"
Lilly Yue, Deputy Director, Division of Biostatistics, FDA/CDRH
"Statistical Considerations on Unplanned Clinical Trial Disruptions due to the COVID 19"
G. David Williamson, Director, Office of Science, National Center for Environmental Health, CDC
"To Start or Not to Start? That Is the Question"
Aldana Rosso, European Medicines Agency, EMA
"Points to consider on implications of Coronavirus disease (COVID 19) on methodological aspects of ongoing clinical trials"
 
Wednesday, July 29, 2020 by Glenn Johnson