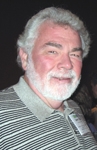 It is with a heavy heart that we announce that Larry Cox, former NISS Assistant Director, passed away June 1 after a prolonged illness. Larry was one of the pioneers of statistical disclosure control, especially for tabular data protection. He worked at the Center for Disease Control for many years. Larry worked with Alan Karr on confidentiality and microsimulation during his years with NISS.
He is survived by his wife, Jane, and his son,Tim, (Emily), and his granddaughter, Alice.
There will be a celebratory mass to honor the memory of Larry (Dr.Lawrence H.) Cox on July 16th at 5pm in the Chapel of the Shrine of Saint Anthony in Ellicott City, Maryland.  Fr. Hilary, a dear friend of the deceased,will conduct the Mass.  After the final blessing some readings from Larry's Book of Remembrances will be read to eulogize the deceased, Dr. Lawrence H.Cox.
After the service and according to the wishes of the deceased, all are invited to continue the celebration of Larry's life by gathering for a not so traditional Irish wake at 12177 Etchison road, Ellicott City, Maryland.
Monday, June 13, 2016 by Stefanie Garraffa