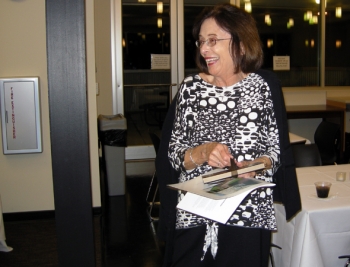 After a glorious 23-year career at NISS, Martha Williamson has announced she is retiring. It is hard for many of us to think of NISS without Martha. When you come to NISS she is usually the first person you see.
Martha was initially interviewed for a position at NISS by Jerry Sacks in 1991 when NISS was located in an office in the 300 Park Building. "When Martha showed up for an interview, I hired her on the spot," said Jerry Sacks, the original director of NISS. NISS was in its start-up phase and only had two little offices. Soon, the organization moved to a suite of offices that were subleased from RTI. A few years later, NISS obtained money to build a building on the Triangle University Center for Advanced Studies Inc. (TUCASI) campus.
"In the interim there were visitors and post-docs to sort out. Her warmth and ease were so important in making their stay comfortable," said Sacks in a letter that was read at the Board of Trustees/Members of the Corporation reception on November 6.
NISS presented Martha with a gift of flowers in a lovely glass vase, a copy of the history of NISS and a gift certificate to a local spa.
Martha is looking forward to spending time with her family in Raleigh, Greensboro and San Diego. She is happy to have time to get to a lot of chores she has been putting off as well. Martha's last day will be the end of December.
Send Martha your well wishes here.
Wednesday, November 18, 2015 by Jamie Nunnelly