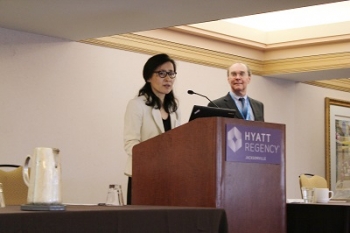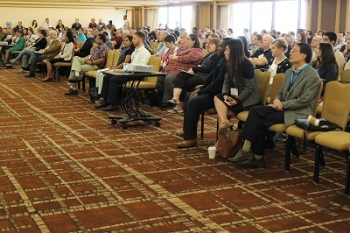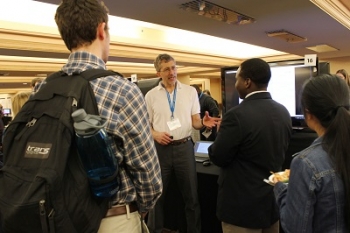 NISS affiliates and Board members represented NISS at the Conference on Statistical Practice (CSP) held in Jacksonville, Florida from February 23-25, 2017. Reaching out to statisticians in business and government, the conference aimed to provide participants with opportunities to learn new statistical methodologies and best practices in statistical analysis, design, consulting, and statistical programming.
David Banks, NISS Assistant Director, delivered the keynote address highlighting the challenges in pursuing a career in statistics. In his keynote address entitled, "Snakes and Ladders: Challenges in Forging a Career in Statistics," Banks shared tips on how to be successful. They included such apothegms as "You cannot be promoted in government or business until you have trained someone to take over your job" and "Reading the newspaper every day makes you seem like someone who is thoughtful and informed."
Banks highlighted the work of NISS at the conference and elaborated on how the NISS Postdoctoral Program helps postdocs build competencies, gain experience, and increase visibility at the early stage of their statistical career. Banks said, "Statisticians face different challenges at different stages of their careers and in this journey, it is important that statisticians grow their social networking," adding, "Both industry and government are continually on the lookout to recruit talented people, and partnering with NISS will provide the technical skills and the required connections to achieve that level of professional growth."
Tim Hesterberg, Senior Statistician at Google, also a NISS Board Member, presented two tutorials on the fundamental and versatile statistical tools, "Bootstrap Methods and Permutation Tests." These tests are excellent resampling methods that allow quantification of uncertainty by calculating standard errors and confidence intervals and performing significance tests. Hesterberg also delivered a talk on the theme, "In this corner: XI! When model variables compete." Both the tutorial and talk were well received by participants. 
Additionally, NISS Affiliate experts made technical presentations at the conference with the aim of demonstrating how to effectively apply new statistical tools to old problems and old tools to new problems. The conference also featured technical presentations on statistical computing techniques such as R-programming and text mining and on experimental design.  
The 2017 CSP was attended by more than 400 statisticians representing industry, government, and academics. Look out for NISS next year at the 2018 CSP in Portland, Oregon.
Useful links:
2017 CSP Program 
About the upcoming 2018 CSP
Monday, May 15, 2017 by Mearl Colaco