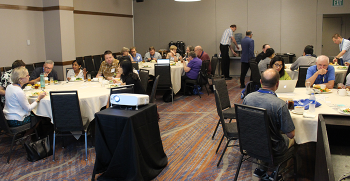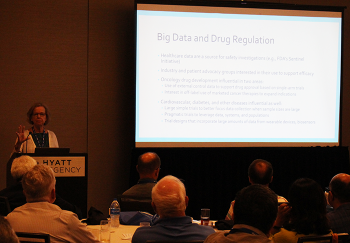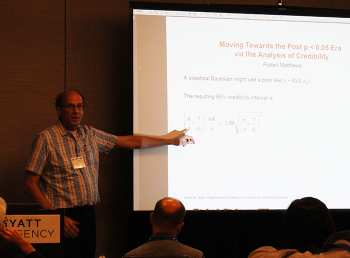 On Sunday, July 28th NISS Affiliates representing academia, industry and government institutions met to share a meal, catch up with one another and hear from speakers on topics of current interest. 
This year the luncheon speakers featured Lisa LaVange (Professor and Associate Chair, Department of Biostatistics, University of North Carolina at Chapel Hill and 2018 President of the American Statistical Association) and Daniel Jeske (Professor, Department of Statistics University of California, Riverside and Editor-in-Chief, The American Statistician).  Dr. LaVange gave a talk related to the use of real-world evidence especially in reference to big data and drug regulation.   The second speaker at the luncheon, Dr. Jeske reviewed three of the papers that were published in the recent special online edition of The American Statistician about three alternatives to traditional p-values. Both of these topics have been of keen interest to statisticians lately and both talks generated good discussion and several questions.  Mimi Kim (Division Head, Division of Biostatistics Albert Einstein College of Medicine​) served as the moderator for this event.
Please view the Photo Album for this event!
Each Affiliate is welcome to send one or two representatives to the luncheon held at JSM each year.  Typically, this has been the department head and the liaison.
James Rosenberger, filling in for Christy Chuang-Stein, Chair of the NISS Affiliates committee reported on the activities to date.  Several very well attended webinars and meet-ups have been organized by committee members and presented by volunteers. He also reported that a half dozen new departments of statistics or biostatistics have recently become new NISS Academic Affiliates including Cornell University, Southern Methodist University, University of Kentucky, University of Minnesota-Twin Cities, and University of North Carolina at Greensboro.  For the complete list of NISS Affiliates, please visit the NISS website.
If your institution is not currently an affiliate or you know of one that might be interested, please do not hesitate to contact Lingzhou Xue, NISS Associate Director.
Monday, August 12, 2019 by Glenn Johnson