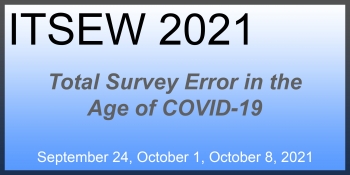 The first total survey error workshop was held in 2005, at the Bureau of Labor Statistics in Washington, DC. It was organized and sponsored by NISS under the auspices of the NISS Affiliates Program. The organizers were Paul Biemer (then and still at RTI International), Jerry Reiter (then and still at Duke) and Alan Karr (then director of NISS). Paul Biemer and Alan Karr have been on the organizing committee for every ITSEW since 2005! The model for the workshop was to hold a series of survey nonresponse workshops that were initially organized by Robert Groves and others.
It is believed that the International Total Survey Error Workshop name and ITSEW acronym came into existence with the second workshop, which was in Research Triangle Park, North Carolina in 2008.  In addition, since 2005, NISS houses the ITSEW archives from these various workshops on its web site.
ITSEW Through the Years!
2005: Washington, D.C.
2008:  Research Triangle Park, NC
2009: Tallberg, Sweden
2010: Stowe, Vermont
2011: Quebec, Canada
2012: Sanpoort, Netherlands
2013: Ames, IA
2014: Washington, D.C.
2015: Not held because of the "big" Total Survey Error Conference in Baltimore, MD
2016: Sydney, Australia
2017: Nuremberg, Germany
2018: Durham, North Carolina
2019: Bergamo, Italy
2020: Not held because of COVID
2021: This Year's Virtual Conference!
2022: Manchester, UK
Wednesday, August 11, 2021 by Glenn Johnson