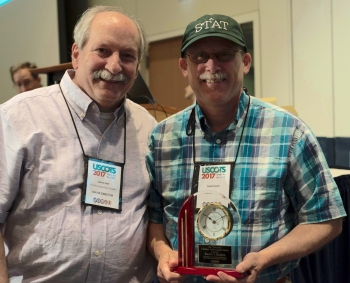 The National Institute of Statistical Sciences (NISS) co-sponsored the 2017 United States Conference on Teaching Statistics (USCOTS), held between May 18th and 20th at the Penn Stater Conference Center Hotel State College, Pennsylvania. The USCOTS is the largest biennial conference that is dedicated to statistics education in North America.
"The theme of the conference "Show Me The Data" was intended to focus on issues like the importance of data in making evidence-based decisions, on the importance of adding content like data visualization and other ideas from data science into our courses, and on emphasizing the need to take a data-driven approach to statistics education research," says, Dennis Pearl, Director of the Consortium for the Advancement of Undergraduate Statistics Education (CAUSE).
Pearl actively participated at the conference, where he presented a three-hour workshop with two collaborators on a National Science Foundation funded education project; he moderated a panel discussion on undergraduate research; facilitated two birds-of-a-feather lunch discussions; and presented two posters demonstrating activities for online learning.
In his keynote address titled "The Gap Between Statistics Education and Statistical Practice," Rob Kass of Carnegie Mellon University emphasized the need to do more to narrow the gap between statistics education and statistical practice. In his address, Kass talked about how the academic discipline in the field of statistics is striving for something much deeper than just a field of data-analytic techniques.               
Echoing Kass' keynote address, Pearl says, "It is crucial to continually attempt to align what we teach in our undergraduate classrooms with the ever-changing statistical practice. Pedagogical and curricular reforms advanced at USCOTS seek to close this gap between statistical practice and what or how we teach our undergraduate statistics courses.  Unfortunately, that gap is still too large with far too many courses still avoiding real data and emphasizing procedural over conceptual and contextual understandings."
Other keynote speakers at the event included Deb Nolan of the University of California, Berkeley, who described an integrated approach to teaching that incorporates computational and statistical thinking skills throughout the fuller data-analysis lifecycle, from data acquisition and cleaning to data organization and analysis to communicating results.
In another interesting keynote address titled, "Prestatistics: Acceleration and New Hope for Non-STEM Majors," Jay Lehmann of the College of San Mateo discussed the growing percentage of community colleges adopting a pre-statistics course in the curriculum which is a great potential for non-STEM students to succeed in the area of statistics.
Pearl presented the CAUSE/USCOTS lifetime achievement award to Danny Kaplan who is an advocate for bringing real big science data problems and the use of modern statistical modeling, and computational technologies into undergraduate statistics training. 
"By co-sponsoring statistical conferences and workshops like USCOTS, we are making these informative and constructive events more accessible to our Affiliate members, who can support their faculty and students to attend.  NISS sponsors the travel of Affiliate members through the use of the Affiliate Award Funds," says, James Rosenberger, NISS Director.
During the past year, the number of conferences and workshops available to NISS academic Affiliates was fairly small. We are eager to co-sponsor many more similar events in the future so that our Affiliate members positively benefit from it, says Rosenberger.
The conference received a good turnout of more than 450 participants who actively participated in the event. The next USCOTS will be held in May 2019 at the Penn Stater Conference Center in Pennsylvania. 
Monday, September 11, 2017 by Mearl Colaco