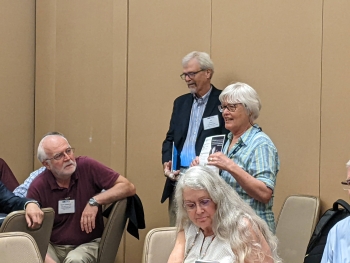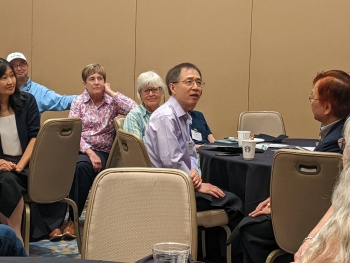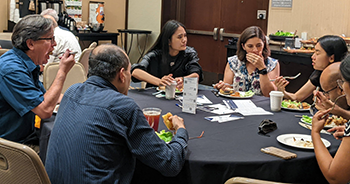 Each year at JSM NISS Affiliates gather together for a luncheon.  Oftentimes there is a set of speakers that are asked to talk on a topic of current interest or concern and each year just getting a chance to get together to reconnect, converse, plan and get to know new people is always welcomed. 
This year the agenda was much more on the informal sidel, the focus being on activities that the affiliates are involved in, especially those that they might be of interest to NISS because of the cross-disciplinary nature of the challenges involved or the benefits that the synergy of statisticians from industry, government institutions and academia can bring to bear on understanding a problem.
Among the impromptu speakers, James Rosenberger, NISS Director asked both Andy White from the National Center for Education Statistics and Linda Young from the National Agricultural Statistical Services talk about what their organizations are involved in and the challenges that they face and some of the steps they have been involved in lately.  Others also were given the opportunity the speak as well.
William Brenneman from NISS Affiliate Procter & Gamble was thanked for his support of the NISS GSN Network and he volunteered to to provide support again for the GSN research conference next year.
Nancy Flournoy provide an update of the various Ingram Olkin Forums that are underway as well as a call for new topics for futurue Forums.
Tuesday, August 23, 2022 by Glenn Johnson