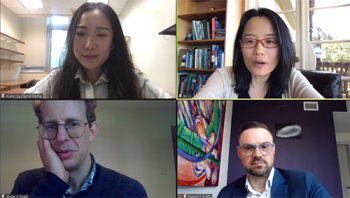 Wednesday, May 18, 2022 - 12-1:30 pm
NISS hosted another Virtual Academic Career Fair.  This career fair provided guidance on what priorities should be set, such as getting publications sent out, perfecting your teaching, accepting service and committee assignments, and much more!  (see Event page)
Our speakers during this career fair offered essential information about job opportunities for statisticians/data scientists in different academic environments. Each presenter provided a 20 minute presentation to address questions and gave advice to new hires, provided guidance on how to seek colleagues who can provide good career advice, and outlined some of the characteristics of candidates for a tenure-track/tenured faculty position in their institutions.
NISS asked our speakers from different types of departments to share their advice to their new hires. Our speakers during this academic career fair included Bo Li from the Department of Statistics at University of Illinois Urbana-Champaign, Robert Krafty from the Rollins School of Public Health Department Biostatistics and Bioinformatics at Emory University, and Dylan Small from The Wharton School Department of Statistics at University of Pennsylvania. The moderator for this session was Xiufan Yu from the Department of Applied and Computational Mathematics and Statistics (ACMS) at University of Notre Dame.
These senior statisticians and data scientists were on hand to provide attendees with an inside look at the varying aspects of research, teaching and service that statisticians in these academic institutions get involved in and the career opportunities available in their departments.
Our first speaker Bo Li provided us with great answers to the questions outlined from the event page for this event. She shared her advice for potential job candidates this coming year and on how Ph.D. students or postdocs should prepare for the future. One piece of advice that Bo Li explains is that going to conferences is a great way to develop your own network. She also addresses the difference between being a Ph.D. student vs. an academic department faculty position:
"When you are a Ph.D student, you can spend all of your time on your research; but as an Assistant Professor, you have other responsibilities: research, teaching, surveys, disseminating your own work in conferences, and applying for grants - which is quite time consuming."

- Bo Li
Robert Krafty shared important information about his department and why it's so great to work there! For instance, he explained how his department was funded as a soft money department instead of a hard money department, which makes this a bit easier financially in his opinion. Robert was able to break down these components in his presentation. He also shared some of the resources needed to be successful and expressed the importance of having good mentors. What is the most important thing that you want to shoot for?  He explains that you want to make sure that you establish your identity in the academic department you work for. To do this, you should identify the parts of the job that you really like and make that part of your identity.
"Establish yourself and identity and as a leader in some area. It requires a focus, and to be known in this area, so you don't want to spread yourself too thin. Make sure that what you are doing is actually the things that you want to do, and that you are successful at it."

- Robert Krafty
Our last speaker for the session, Dylan Small, highlighted some of the skills that you would acquire in grad school needed to have a position in academia. These skills are computational skills, writing skills, presentation skills and also knowledge of a field outside of statistics such as economics, biology or public health for example. Dylan's main advice would be to work on what you enjoy most. He also echoed Robert Krafty on having good mentors: 
"It is important to find an advisor you feel comfortable with."

- Dylan Small
This is the second to last session of our NISS Career Fair Series for the Spring of 2022! There are several more in the planning stages for the Fall of 2022! Keep your eye on the list of upcoming events on the NISS website or subscribe to the NISS Newsletter!
You can view the entire recording of the career fair on our YouTube channel below:
Recording of the Session
Thursday, May 26, 2022 by Megan Glenn