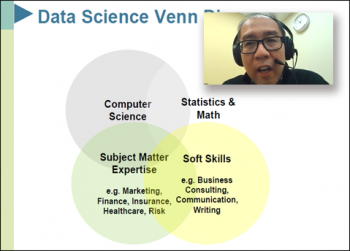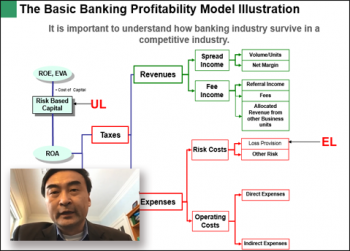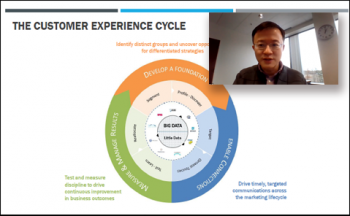 The National Institute of Statistical Sciences (NISS) has a mission to promote collaborations across different disciplines. As a means of fulfilling this mission, on September 26, 2019, NISS sponsored its first virtual career fair, featuring career opportunities at Google, Merck, Minitab, RTI, and SAS. (Recordings and presentations for the September 26 career fair are now available to the public!)
NISS followed this up by holding a 2nd Industry Career Fair over the lunch hour on December 6, 2019. The 2nd career fair featured career opportunities for statisticians/data scientists/analysts in non-healthcare industries.  Led by Esra Kurum (University of California, Riverside) the speakers for this second career fair were Victor Lo (Fidelity Investments), Daniel Tu (Citizens Bank) and Danny Jin (Epsilon).​
Victor Lo currently leads the Center of Excellence for AI and Data Science in Workplace Investments at Fidelity Investments and brings 25 years of extensive consulting and corporate experience employing data-driven solutions in a wide variety of business areas including marketing and finance. He provided an substantive overview of the professional landscape that all statisticians engage in.  And, in doing so, there were two points that Victor made clear.  First, there exist a wide range of opportunities for individuals with a solid foundation of statistical methods and application.  And, that regardless what these positions might be labeled, (i.e., anything from biostatistician, business analyst, risk manager, actuarial consultant, etc.), a strong foundation in statistics is essential.  Second, careers in statistics have consistently been ranked as one of the top positions by metrics used by GlassDoor, US News, LinkedIn and CareerCast!
Daniel Tu brings over 20 years of industry and consulting experience in financial risk management, financial and credit modeling, banking product development, capital management, marketing, and economic analysis.  Currently he leads a team that validates all models used in the Citizens Bank, the 13th largest commercial bank in the U.S.  Among his remarks Daniel pointed out the subtle differences of the models used in the banking industry, the challenges of the data involved, the unique needs involved in managing risk and on top of all of this the governance, policies and controls that all play a role in influencing the models that are used.
Clearly return on investment (ROI) takes center stage in the work that Danny Jin is involved in.  Danny is Statistics Director at Epsilon and has 13 years of experience implementing advanced statistical tactics to maximize clients' marketing ROI. The bottom line is being able to prove the effectiveness of the marketing programs put into place a system that understands the business need, gathers data to verify this need and then uses this information to put into place the appropriate analytical solution.  These are the types of challenges that the analysts in this type of industry tackles.  To be successful Danny made it clear that they require a wide range of capabilities in analysis, business and technology.
As far as the best advice for preparing for careers in the business, financial or marketing sectors - all panelists agreed that if it was possible to become involved as a summer intern or include some type of in-house experience as part of your educational experience this would be most beneficial.
Like the first career fair, this second career fair was available only to students and faculty (at all levels) from NISS affiliates institutions. 
Keep an eye open for the next virtual career fair! Subsequent career fairs will highlight opportunities for statisticians working in different sectors - academic, industry and government.  These online sessions are free!  Plus, you get to hear from experienced professionals who can give you an inside look into an area you may be interested in!   Be sure to register early! 
Event Recording
Slides used by the Speakers
Victor Lo, "Statistics and Data Science Career Paths: Non-Healthcare Commercial Sectors"
Daniel Tu "Career for Statisticians in Commercial Banking"
Danny Jin, "NISS Non-Healthcare Industry Career Fair"
Saturday, December 7, 2019 by Glenn Johnson