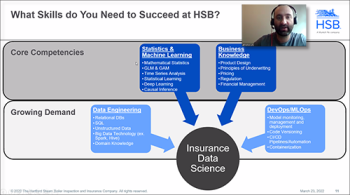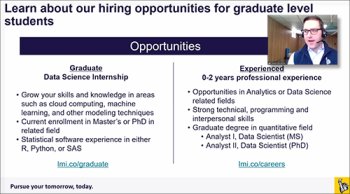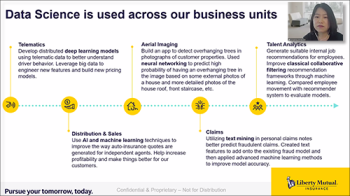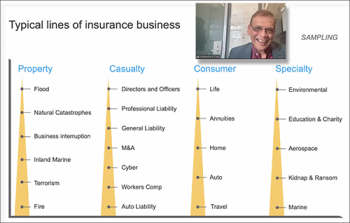 NISS hosts Virtual Career Fair sessions that focus on academic positions, others on positions in government agencies and industry. The NISS Virtual Career Fair for Insurance & Finance Companies took place on Wednesday, March 23, 2022 at noon ET.  (see Event page)
During this session, our speakers described opportunities for statisticians/data scientists from three companies in the insurance and finance industries. Attendees were provided with an inside look at the research that statisticians in these companies get involved in and announced career opportunities for prospective employees to consider!
Each one of our speakers presented on job opportunities and hiring status, described the range of skills needed to succeed in their company, and the career paths for statisticians/data scientists/analysts in their company. Additionally, our speakers gave advice on what they would give to students based on their own experience.
Our Panelists came together during a Q&A session where our audience had the opportunity to discuss topics with panelists and asked questions.
Speakers of this session included Nathan Lally with the Hartford Steam Boiler (Munich Re Group), Dan McCarthy and Qingqing (Anna) Dai with Liberty Mutual Insurance, and Siddhartha Dalal with Columbia University (formerly with AIG). Our Moderator for the day was Susan Edwards from RTI International.
Nathan Lally, our first speaker for the day, provided an overview of HSB insurance and explained some of what data scientists work on in the agency. Part of the work involves acting as a consulting group while performing data analytics. You might also be asked to work on IoTs (internet of things).
Nathan highlights that there might be some change coming up in the industry. We now might be able to determine how we can monetize data and improve productivity. Using causal AI use models to infer whether a customer took action.
"We provide all kinds of intelligence to our clients, and we motivate behavioral changes to promote well-being!"

Nathan Lally with the Hartford Steam Boiler (Munich Re Group)
What do you need to know before entering this field? Nathan highlights that insurance agencies may have higher than average expectations for knowledge of mathematics! It would be great to sharpen up those skills along with data software engineering and DevOps. These are very useful skills and are very valuable because it's highly important to be able to take the work that you do and be able to automate things.
Nathan's team is hiring!  There will be a cyber specific role in the next few months
Liberty Mutual Insurance was next on our agenda Anna Dai & Dan McCarthy. Dan gave a quick introduction of Liberty Mutual's company information. 
"Our mission at Liberty Mutual is to help people and that mindset is shared by all of our employees."
Dan McCarthy (Liberty Mutual)
Dan helps build the talent pipeline at Liberty Mutual.  Anna followed by sharing her story of how she got where she is now at Liberty Mutual. Anna also highlighted a few sample projects.
There is a collaborative culture in Liberty Mutual's community and everyone has similar interests and works on different projects.  Coming from academia, use analytical skills from school to solve real critical business problems. Anna emphasized that the field of data science in insurance is growing and they are using state of the art techniques at Liberty Mutual. 
There is a Graduate Data Science Internship Program at Liberty Mutual! This program provides great hands-on learning experience with the team. 
Siddhartha Dalal (Columbia University) was formerly with AIG prior to joining Columbia University. Sid explained the differences between multiple types of insurance. He notes that insurance is mainly about major risk taking as you start pooling the risk.  Insurance agencies are changing by supplying all types of intelligence and having correct data is very important.  Sid was one of the founding members of the insurance company in California. 
A broader picture of opportunities was shown to the audience by Sid that exists for insurance. There are many examples of what insurance agencies do according to different types which Sid had portrayed in his talk. For instance, insurance was heavily needed during severe damages caused by crises from everything like Hurricane Sandy, the Asbestos Outbreak, tornadoes, to car insurance and life and retirement insurances.
You can find the full recording of this event on our NISS Communications YouTube Channel below.
Recording of this Session
Slides Used by the Speakers
Nathan Lally, Hartford Steam Boiler (Munich Re Group)
"Being a Statistician or Data Scientist in the Insurance Industry and at HSB and Munich Re"
Qingqing (Anna) Dai & Daniel McCarthy, Liberty Mutual Insurance
"coming soon!"
Siddhartha Dalal, Columbia University
"Opportunities for Careers in Insurance for Statisticians and Data Scientists"
Tuesday, April 5, 2022 by Megan Glenn