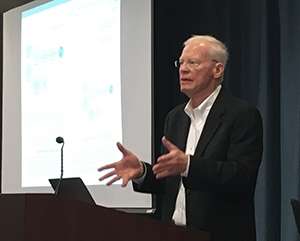 Over the past year or so NISS has been involved in hosting workshops that target big data and methods for handling  R & Spark: Tools for Data Science Workflows.
This most recent workshop took place at the Bureau of Labor Statistics's Conference and Training Center in Washington, DC on Wednesday and Thursday, May 30-31.
"It was great to see so many NISS affiliates in attendance!"   James Rosenberger, NISS Director
Many different government agencies and other institutions were represented at the workshop, including:
Bureau of Economic Analysis (BEA)
Federal Deposit Insurance Corporation (FDIC)
National Science Foundation
NORC at the University of Chicago
Office of People Analytics
Stanford University
University of Maryland, Baltimore County
University of Texas at San Antonio
US Census Bureau
US Department of Transportation
US Department of Energy/Energy Information Administration
US Environmental Protection Agency
World Resources Institute (WRI)
One of NISS's goals has been to find ways to provide access to, in this case, big data technologies and workflows for statisticians working in federal agenies or other institutions that are being challenged with how to manage big data.  The NISS hosted workshop in Alexandria that took place in September of 2017 also helped fulfill this goal.
"We are happy that NISS can play this type of a role - facilitating the sharing of new knowledge, methods and applications, especially as it relates to topics that are confronting statisticians today."  Nell Sedransk, NISS Director - DC
If this is the kind of workshop that interests you or your agency please do not hesitate to contact NISS to help host something a similar session for your institution.
Please note that NISS also helps prepare and run internal / in-house workshops for the individuals at your site on big data related or other topics of specific concern for your institution.
Monday, June 4, 2018 by Glenn Johnson