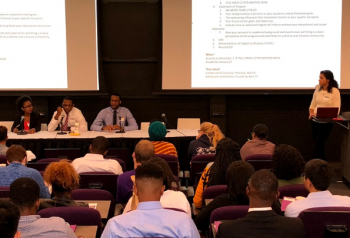 On September 22, Amherst College hosted the national STATFest conference that encourages underrepresented students to pursue statistics and data science careers. STATFest is an ongoing initiative by the American Statistical Association through its Committee on Minorities in Statistics and is held at a different college or university each year.  Amherst College hosted the event for the first time this year after Beitzel Professor in Technology and Society Nick Horton (former member of the ASA board of Directors and NISS Board Trustees) realized that the new Science Center on the Amherst campus would be open in time for the conference.
Besides a lecture hall for the keynotes, this new venue offered conference participants various room configurations and smaller meeting areas, an ideal setting for the more informal aspects of making connections and networking.
Keynote speakers included Fernando Perez and Scarlett Bellamy.  Fernando Perez created iPython and co-created Project Jupyter. He is a Professor of Statistics at the University of California/Berkeley and Senior Fellow of the Berkeley Institute for Data Science. Scarlett Bellamy is Past-President of ENAR (Eastern North American Region) of the International Biometrics Society. She is a Professor of Biostatistics and director of the graduate program at the Department of Epidemiology and Biostatistics, Drexel University Dornsife School of Public Health.  Both spoke about how they got where they are today and provided advice for the aspiring statisticians in attendance.
This year's conference included 150 attendees, including 80 undergraduates, from 90 institutions around the country. It was also live-streamed to Purdue University in Indiana and Pomona College in California.
More?  Read the story, "At StatFest, Diversity is the Greatest Value" about this event on the Amherst College News & Events web page.  The story includes videos of the opening remarks and the two keynote speakers.
STATFest - a wonderful way to encourage inquisitive and engaging students into careers in statistics and data science! 

NISS affiliates – academic or industry – why not think about hosting a future STATFest conference!
Monday, October 8, 2018 by Glenn Johnson