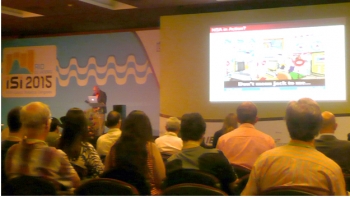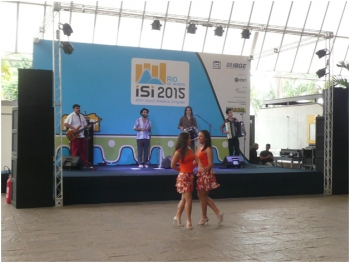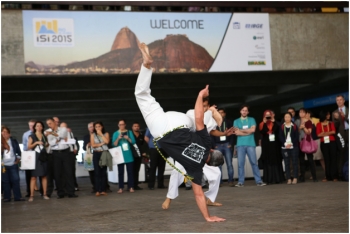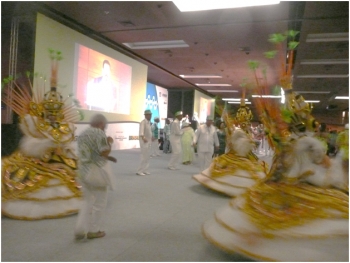 The following was written by NISS/Duke postdoc Mauricio Sadinle.
Statisticians from around the world gathered under the enticing draw of the Brazilian culture during the 60th World Statistics Congress (WSC) in Rio de Janeiro.
Held July 26-31 of this year, the WSC is organized biannually by the International Statistics Institute (ISI) in collaboration with the host country's national statistics office, this year the Brazilian Institute of Geography and Statistics (known as IBGE in Brazil, after its name in Portuguese).  The conference attracted around 1,600 statisticians from over 130 countries.  The WSC is truly an international event.  In any session, multiple speakers from different countries could be found presenting their area of expertise.  In particular, for example, statistical agencies from around the globe shared their methodologies, advances, and challenges of their work.  The variety of origins and perspectives on a topic was enriching and informative.
NISS representatives included myself, Saki Kinney and Larry Cox. I presented a poster entitled "Bayesian Estimation of Bipartite Matchings for Record Linkage." Larry Cox who taught a short course on "Data Anonymization: Balancing Data Confidentiality and Data Quality."
The conference also offered a social program that exposed attendees to Brazil's cultural richness through selections of entertaining, high-quality music and dances.  The opening and closing ceremonies featured lively samba batucada performances by local samba schools, while the lunch breaks were accompanied by a variety of traditional music from the different regions of Brazil.  The combination of statistics and Brazilian cultural performances was quite a unique experience!
.
Friday, August 21, 2015 by Jamie Nunnelly