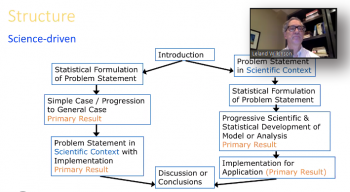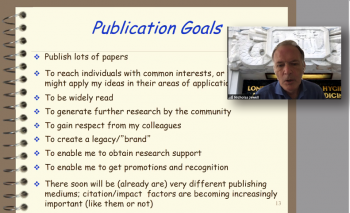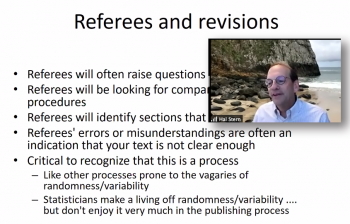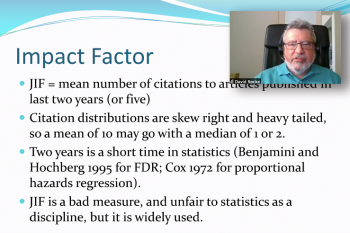 Friday, August 7th was the first of what has become an annual event at JSM, NISS Writing Workshop for Junior Researchers (at JSM). 
As you know, JSM went virtual this year and so did the writing workshop.  And, because of the virtual access participants that might not have been able to travel to Philadelphia (even under normal circumstances) were able to participate in this year's event. 
Day One
The first day led off with a couple of speakers.  First speaker was Leland Wilkinson (H20.ai and University of Illinois at Chicago) who gave a lengthy and very informative presentation entitled "Writing for Data Science and Statistics" focused on writing skills and the second looked at evaluating good and bad writing.  What made this workshop a bit different than the larger webinars that NISS has hosted lately is that participants were able to 'raise their hand' and using their microphone ask their own questions live.  This made for much more interactive experience.  In fact, a virtual lunch time followed where participants were sent to virtual break-out rooms with the senior mentor that they had been assigned to so that they could get to know each other and discuss the publication pieces that they have been involved in.
After the lunch time interaction with mentors, everyone returned to the 'main' room for a presentation by Nick Jewell (University of California, Berkeley & London School of Hygiene & Tropical Medicine)entitled "Choosing Where to Publish (and some clues as to how to get published)".  Nick was followed by a series of shorter presentations from a panel of speakers that was moderated by Lingzhou Xue (Associate Director, NISS and Penn State University).  These panelists inlcuded the following experienced statisticians below, (the titles of their talks follow):
Xuming He (University of Michigan) - "Statistical theory and methods journals"
Nicole Lazar (University of Georgia and Penn State University) - "Publishing in Neuroscience and Social and Behavioral Science Journals "
Tyler McCormick (University of Washington) - "Thoughts on Publishing"
David Rocke (University of California, Davis) - "Publishing in Biostatistics, Bioinformatics, and Bio(medical) science Journals"
Hal Stern (University of California, Irvine) - "Publishing in Methods/Applications Journals"
After this panel session participants were placed back into their break-out rooms with their mentors for another round of conversation
Day Two
Sessions resumed with Naomi Altman (Penn State University)  providing advice on "The Review and Revision Process".  She was followed by Susan Ellenberg (University of Pennsylvania) whose comments focused on "How to Write a Collaborative Paper".  Peter Imrey (Cleveland Clinic) rounded out the morning with a insightful and important presentation that focused on "Ethical Issues and Reproducibility."  The end of his presentation included a number of actual ethical situations for participants to think about appropriate responses.
The afternoon panel sessions were first practical approaches to writing grants, followed by insightful stories of personal career advancement.  The grant writing session moderated by Keith Crank involved the following speakers: 
Cheryl Eavey (NSF SBE Program Director)
Karen Messer (NIH BMRD Study Section Chair & University of California, San Diego)
Judy Wang (NSF DMS Statistics Program Director & Georgia Washington University)
The second session speakers included:
Emma Benn (Icahn School of Medicine at Mount Sinai)
Edsel Peña (University of South Carolina)
Ali Shojaie (University of Washington)
Judy Wang (NSF DMS Statistics Program Director & Georgia Washington University)
Check out the Photo Album of this virtual event!
Tuesday, August 11, 2020 by Glenn Johnson