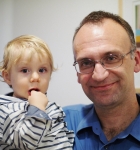 Years Participated:
2001-2002
Organization:
University of Washington
Professional Title:
Associate Professor
Adrian Dobra is an Associate Professor with the University of Washington, where he has a joint appointment with the Department of Statistics and the Department of Biobehavioral Nursing and Health Systems. He served as a postdoc with NISS at Duke University from 2001 to 2006, where he developed statistical tools for disclosure limitation in multi-way contingency tables.
A native of Romania, Dobra earned his B.S. in Mathematics and his M.S. in Computer Science from the University of Bucharest in 1995 and 1996. He then came to Pennsylvania, where he obtained his Ph.D. from the Department of Statistics at Carnegie Mellon University in 2001. After completing his service with NISS, Dobra joined the University of Washington as an Assistant Professor in 2006, and was promoted to full Associate Professor in 2012.
During his career with the University of Washington, Dobra has served as the Principal Investigator in two major projects. The first, from 2008-2011, was a cross-species analysis of myocardial susceptibility to perioperative stress. The second, from 2011-2014, was a statistical ensemble for the identification of bacterial genomes. In addition to his work with the University of Washington, Dobra serves as the Associate Editor for Bayesian Analysis and Annals of Applied Statistics.