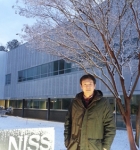 Years Participated:
2012-2015
Organization:
University of Cincinnati
Professional Title:
Assistant Professor
Dr. Hang Kim is an assisant professor at the University of Cincinnati, starting his position in the Fall of 2015.
Kim worked at NISS and Duke University, from 2013 - 2015. He conducted research for the NSF-Census Research Network (NCRN) project.
He received a dual bachelor's degree in business and applied statistics from Yonsei University in Seoul, and also received his master's degree in statistics from Yonsei University. Kim received his Ph.D. in statistics from the Ohio State University, studying under Dr. Steven MacEachern.
Kim's area of expertise is Bayesian analysis, particularly in Markov Chain Monte Carlo methods and non-parametric Bayesian approaches.