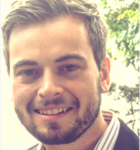 NISS Position:
Research Associate
Joe Rodhouse is a Research Associate for NISS working at the National Agricultural Statistics Services (NASS) in Survey Methodology and Technology Section (SMTS) of the Research and Development Division (RDD).  Joe holds a Bachelor of Arts in Sociology from Whitman College (2010), and a Master of Science in Survey Methodology from the University of Maryland (2017).  Prior to joining NISS, Joe spent five years in Boston at one of the leading market research firms in the Information Technology sector, followed by a two-year stint as a graduate research assistant at NASS while completing his graduate studies.
 
Joe's research interests include web surveys, paradata, data collection methods, the psychology of survey response, questionnaire design, statistical modeling, and the total survey error (TSE) framework. 
Joe was recently featured in the NISS Newsletter - read more...