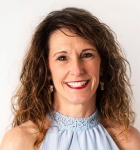 NISS Position:
Financial Manager
Professional Title:
Financial Manager
Lisa Bivens is the new Financial Manager for the National Institute of Statistical Sciences. Lisa has a diverse background, including a recent bookkeeping position where she managed day-to-day financial transactions, rebuilt data for new integration, processed payroll, and demonstrated proficiency in QuickBooks Online, Great Plains, QBO, Gusto, and ADP. Additionally, Lisa also holds a position at EIS, Inc. as an Accounts Payable Specialist/Office Manager since 2019, where she efficiently handled invoicing, budget documentation, expense tracking, and account reconciliation across multiple accounts, ensuring stringent business controls.
As a lifelong science fan who read the encyclopedia as a little girl, the opportunity to provide accounting support services at NISS is the perfect position for Lisa. A resident of Weddington, North Carolina, Lisa has held a wide variety positions, but honestly enjoys the truth of numbers. When Lisa isn't working or running, she is hanging out with her hubby of 33 years in their apartment in Germany.
Lisa is thrilled to join NISS as our Financial Manager, bringing with her extensive work/life experience to pursue a fulfilling career in administration and management.