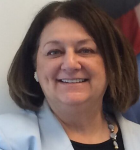 NISS Position:
Elected Board of Trustees Member
NISS Term Expiration:
2024 June 30
Organization:
NAPx Consulting
Professional Title:
Owner & CEO
Nancy A. Potok is owner and CEO of NAPx Consulting.  She has over 36 years of senior level experience in the public policy arena within the public, private and non-profit sectors.  Her focus is on evidence-driven decision-making, program evaluation, social science research, risk management, mentoring, and organizational transformation.  Among the many positions she has held, Nancy recently served as Chief Statistician of the United States; US Office of Management and Budget, Chief Operating Officer and Deputy Director; US Census Bureau, and Deputy Under Secretary for Economic Affairs; US Dept. of Commerce.  She remains Adjunct Professor at The George Washington University Trachtenberg School of Public Policy and Public Administration.
Nancy is a nationally recognized expert across public, private and non-profit sectors on successfully leading and managing both large and small organizations through growth and transformation using data and information to succeed; C suite experience leading the modernization of multi-billion dollar national organizations; held senior federal policy positions at the White House, on commissions, and in agencies; currently consulting with public and private sector entities as a recognized data expert as well as teaching university graduate school and other courses on leadership, data, and management. Author of influential policy white papers and other publications; extensive public speaking experience. Chair and Board member for various nonprofit and academic organizations. Recognized with the Presidential Rank Award, Arthur S. Flemming Award, Secretary of Commerce Gold Medal, George Washington University Distinguished Alumni Award, AFERM's Federal Enterprise Risk Manager of the Year Award, and election to the National Academy of Public Administration.