Research Project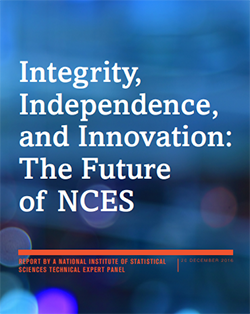 Summary
The NCES has progressed since the NAS report, advancing well beyond the challenges articulated in that report. However, we are in a time of rapid technological change, and every facet of education is evolving. NCES needs to remain current in documenting what is being taught/learned, how it is being learned, how it is being assessed, what are the obstacles, who is being educated, where education is taking place, how it is being administered and delivered, and what its impact is on students and on society as a whole. At this time, NCES is in a position to examine what is important and at the core of its future mission; which of its activities should be retained, streamlined, or expanded; and which activities should be suspended as being less relevant for the future. 
Observations and Findings of the Expert Panel
The Panel has nine specific proposals for NCES future attention, divided into five domain areas:
Strategic Prioritization,
Expanded Dialogue with Constituencies and with Experts,
Autonomy,
Information: Data and Dissemination,
Critical Staff. 
All of these areas are addressed in detail in the full report:
Project Goal:
The National Center for Education Statistics (NCES) charged this Expert Panel to review NCES progress and changes over the decades since the National Academy of Sciences (NAS) issued its report on NCES, "Creating a center for education statistics: A time for action," in 1986, and to consider challenges and priorities for the future. The National Institute of Statistical Sciences (NISS) assembled a panel consisting of academic, government, and private-sector experts from the fields of statistics and of education. Panelists were chosen because of their experience as both users and providers of education data, and their understanding of federal statistical operations, purposes, policies, and constraints. The Expert Panel drew on materials assembled from public sources, including federal directives, NCES documentation, presentations by NCES administrators and senior staff, and summaries of interviews NISS conducted with NCES personnel from the level of team leader to Commissioner. 
With these materials in hand, the Expert Panel convened via teleconference to create an agenda and list of specific queries for NCES to address during a two-day meeting in December 2015. Acting Commissioner Peggy Carr and her staff presented responses to the specific queries, and discussions followed of the issues identified by Dr. Carr and the Expert Panel. Additional materials were prepared by NCES to address further questions raised by the Expert Panel. The Expert Panel's report was drafted, reviewed, and revised following further panel teleconferences. The draft report was presented to Acting Commissioner Carr in a two-day meeting in May 2016. Final revision incorporated clarifications and additions from the May meeting. 
For NCES to move forward and attain these goals, five areas need particular attention:
An articulated vision of NCES's role in the national conversation on education and education policy, and an agile decision process to enable the Center to adapt to the rapid evolution in education.
Expanded dialogues with NCES constituencies and education policy and technical experts.
The need to assure professional independence, which is crucial for a federal statistical agency.
Innovation and forward thinking in data acquisition, dissemination, and publication to meet the needs of diverse NCES customers, including policymakers and public- and private-sector data users.
Attracting and retaining high-quality staff with an appropriate range and balance of skill sets. Staff should have professional expectations and opportunities to ensure the scientific stature and credibility of NCES.
Research Team:
Expert Panel Members
Sandy Baum Ph.D.
Ph.D., Columbia University
Senior Fellow, Urban Institute
Susan Dynarski E
Ph.D., Economics, Massachusetts Institute of Technology
Professor of Public Policy; Professor of Education; Professor of Economics, University of Michigan 
Jeremy Finn
Ph.D., University of Chicago
SUNY Distinguished Professor and Chair of the Department of Counseling, School, and Educational Psychology, Graduate School of Education, University at Buffalo, SUNY 
Hermann Habermann
Ph.D., University of Wisconsin-Madison
Senior Program Officer, the Committee on National Statistics (CNSTAT)
Frederick M. Hess
Ph.D., Government, Harvard University
Resident Scholar and Director of Education Policy Studies, American Enterprise Institute
Graham Kalton
Ph.D., Survey Methodology, University of Southampton
Senior Vice President and Chairman of the Board of Directors of Westat
David Kaplan
Ph.D., Education, Quantitative Methods, University of California-Los Angeles
Professor, Educational Psychology, School of Education, University of Wisconsin, Madison 
Alan Karr
Ph.D., Applied Mathematics, Northwestern University
Director of the Center of Excellence for Complex Data Analysis (CoDA) and Director of the Social Statistics Program at RTI International
Nancy Kirkendall
Ph.D., Mathematical Statistics, George Washington University 
Senior Program Officer, the Committee on National Statistics (CNSTAT)
Roderick J.A. Little
Ph.D., Statistics, London University
Richard D. Remington Distinguished University Professor, Biostatistics Department; Professor, Statistics Department; Research Professor, Institute for Social Research, University of Michigan
Nancy Potok
Ph.D., George Washington University
Deputy Director and Chief Operating Officer, U.S. Census Bureau
Nell Sedransk
Ph.D., Iowa State University
Director, National Institute of Statistical Sciences; Statistics Professor, North Carolina State University
Joy Edington
Ph.D., Quantitative Research, Evaluation and Measurement, The Ohio State University
Research Fellow, National Institute of Statistical Sciences
Funding Sponsors: