November 1, 2022; 12 pm - 1:30 pm ET
[Please Note: This session has already occurred.  Go to the News Story for this event to read about what happened.]
NISS is putting together a new Ingram Olkin Forum on Advancing Demographic Equity with Privacy Preserving Methodology! This forum will first be introduced as an online webinar on November 1, 2022 at 12pm - 1:30pm ET.
This webinar acts as an introduction to the in-person two-day NISS IOF workshop in the Washington DC area in January 2023. From this workshop, we will summarize the current challenges and future directions of this collaborative research and practice area in a white paper and / or manuscript. Working groups will be formed and expected to continue after the workshop. To generate a broader participation for the workshop, we are planning on a pre-workshop, 1.5-hour webinar on November 1, 2022 with four panelists from academia, government, NGOs/Think Tanks, and data users/practitioners on "Current Challenges and Potential Future Work" around the workshop theme of Advancing Demographic Equity with Privacy Preserving Methodologies.
Panelists:

---
Motivation of this Ingram Olkin Forum:
On his first day in office, President Biden signed an executive order directing federal agencies and White House offices to examine barriers to underrepresented individuals and initiated several efforts to address equity for people of color and underserved communities. The executive order takes an unprecedented step by committing the government to actively pursuing more equitable engagement and outcomes across all agencies and policy areas.
However, many statistical agencies do not collect or release detailed demographic data and statistics due to growing concerns about disclosure risks. For instance, people of color with low incomes are more susceptible to privacy attacks because of their higher reliance on smartphones for internet access and how much personal information they give up for free cell phone app services. Such information collection makes them more easily identifiable, especially if they are outliers in small geographies.
To address these issues, some propose agencies to review and update their privacy protection methodologies with more modern data privacy and confidentiality techniques. However, as evident in the political discussions surrounding the 2020 Census, there is a lack of communication among policymakers, privacy researchers, and data practitioners about what privacy-preserving measures should be taken and their implications. This situation stagnated the conversation on improving access to more detailed demographic data.
Dissemination / Expected Output
NISS will host a two-day workshop in January 2023 to improve and strengthen the relationships among the privacy experts, researchers (e.g., social scientists, economists, and demographers), data stewards, data practitioners, and public policymakers. During the workshop, we hope to bridge the communication gap and identify what tools and educational materials are needed to improve expanding access to confidential demographic data for better public policy decision-making. In addition to connecting statisticians to public policymakers, we will write a white paper and / or manuscript suitable for journals such as Statistics and Public Policy on lessons learned and next steps that the data privacy and confidentiality community should take to move the conversation forward.
Component I: 1.5-hour webinar on November 1, 2022.
Component II: 2-day workshop on January 12-13, 2023.
Component III: White paper / manuscript by August 2023.
During the workshop on January 12-13, 2023 we have planned 6 sessions with topics of statistical data privacy methods (synthetic data and differential privacy), challenges faced at federal statistical agencies and data users, applications and use cases, public policy and privacy law, and funding opportunities. Working roundtables are scheduled throughout the two-day workshop to facilitate close collaboration among participants that will continue after the workshop. In addition to connecting statisticians to public  policymakers, we will write a white paper and / or manuscript suitable for journals, such as the Journal on Statistics and Public Policy, about the lessons learned and next steps that the data privacy and confidentiality community should take to move the conversation forward. This IOF is generously sponsored by the Alfred P. Sloan Foundation.
Organizing Committee:
Jingchen (Monika) Hu, Associate Professor, Vassar College
Claire Bowen, Principal Research Associate, Urban Institute
Key Staff and Collaborators:
Nancy Flournoy, Curators Distinguished Professor, University of Missouri
David L. Banks, Professor of the Practice of Statistical Science, Duke University
James Rosenberger, Director of National Institute of Statistical Science (NISS)
Claire Kelling, PhD Candidate in Statistics and Social Data Analytics, Penn State University
Wendy Martinez, Senior Mathematical Statistician for Data Science, U.S. Census Bureau
---
Agenda
12:00pm - 12:10pm: NISS and IOF overview 
12:10pm - 12:20pm: The topic of this IOF, information about the in-person workshop in January 2023 
12:20pm - 12:25pm: Introduction of the theme of the panel, the panelists, and format 
12:25pm - 1:05pm: 4 panelists answer 1-2 introduction/prepared questions 
1:05pm - 1:25pm: Q&A open to audience 
1:25pm - 1:30pm: Wrap up & Closing Remarks
About the Panelists:
Jerry Reiter is a professor of statistical science at Duke University, where he also serves as Dean of the Natural Sciences. His primary research interests include methods for data confidentiality, missing data, and data integration. He is a member of the Committee on National Statistics and a NISS Board of Trustees. 
Tom Krenzke is a Vice President and Senior Statistical Fellow in Westat's Statistics and Data Science group and has 30 years of experience in survey sampling and estimation techniques. Mr. Krenzke leads research most recently in sample design, statistical confidentiality, and small area estimation, and adds new statistical capabilities by developing software for disclosure avoidance and other statistical needs. Mr. Krenzke is a Fellow of the American Statistical Association (ASA), the Council of Chapters Governing Board District 2 vice chair, the 2019-2020 chair of the ASA Committee on Privacy and Confidentiality, and the 2018-2019 Washington Statistical Society president. Mr. Krenzke also leads Westat's Steering Committee on WesDaX® (real-time online table generator), Confidentiality Work Group, and serves on the Institutional Review Board.
Katherine Jenny Thompson is the Senior Mathematical Statistician in the Economic Directorate of the Census Bureau. Jenny holds a graduate degree in Applied Statistics from George Washington University and an undergraduate degree in Mathematics from Oberlin College. She is an ASA Fellow, an elected member of the International Statistics Institute, and will serve as ASA Vice President Elect in 2023. Currently, she is the Survey Statistics Editor-in-Chief of the Journal of Survey Statistics and Methodology and an Associate Editor for the Journal of Official Statistics. She has published papers on a variety of topics related to complex surveys in several journals, including the Journal of Official Statistics, Journal of the Royal Statistical Society (Series A), Survey Methodology, Annals of Applied Statistics, International Statistical Review, Journal of Survey Sampling and Methodology, and Public Opinion Quarterly.  
Amy O'Hara is a Research Professor in the Massive Data Institute and Executive Director of the Federal Statistical Research Data Center at the McCourt School for Public Policy. She works on data governance, linkage, and privacy preserving technologies.  Her research focuses on population measurement, eviction and debt data, and methods to improve secure data access.  She received her Ph.D. in Economics from the University of Notre Dame.
About the Moderators/Organizers:
Jingchen (Monika) Hu is an associate professor of statistics at Vassar College. Her research focuses on statistical data privacy methods, mainly synthetic data and differential privacy. She teaches a senior seminar on statistical data privacy at Vassar and engages undergraduate students in learning cutting-edge methods and conducting applied research in this area. 
Dr. Claire McKay Bowen is a principal research associate in the Center on Labor, Human Services, and Population and leads the Statistical Methods Group at the Urban Institute. Her research focuses on developing and assessing the quality of differentially private data synthesis methods and science communication. In 2021, the Committee of Presidents of Statistical Societies identified her as an emerging leader in statistics for her technical contributions and leadership to statistics and the field of data privacy and confidentiality. She is also a member of the Census Scientific Advisory Committee and the Differential Privacy Working Group, an advisory board member of the Future of Privacy Forums, and an adjunct professor at Stonehill College.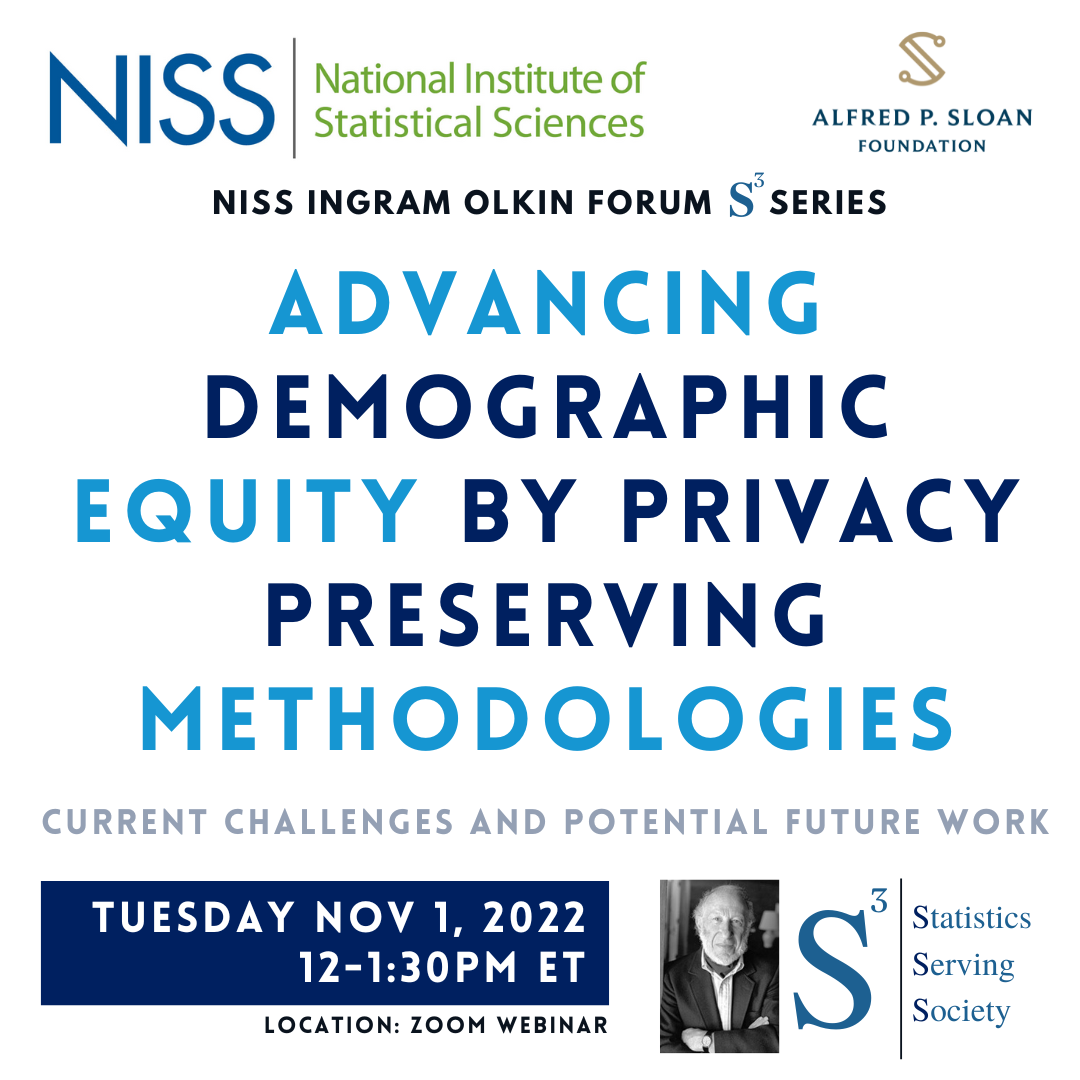 Event Type
Affiliate Award Fund Eligible
NISS Hosted
NISS Sponsored
Host
National Institute of Statistical Sciences
Website
Policy