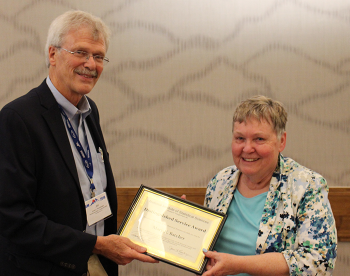 The NISS  Board of Trustees established the NISS Distinguished Service Awards in 2005 to recognize individuals who have given extraordinary service that significantly advances NISS and its mission. Each year, one or more recipients are chosen by a committee composed of the Vice-Chair of the Board, the chair of the Awards Committee of the Board and the Directors.  This year the honor was bestowed on two individuals who inarguably have been at the heart of NISS activities over the past decade, Mary Batcher and Nell Sedransk.
Mary Batcher recently completed six years on the Board of Trustees of NISS.  She served on the executive committee and the finance committee of the board, and for the past four years served as Chair of the Board of Trustees. 
Dr. Batcher has had a very successful career focused on design based and model-based sampling and estimation.  Her M.S. and Ph.D. degrees were obtained at University of Maryland.  She worked at the National Center for Educational Statistics from 1985 through 1988, was Internal Revenue Service Chief of Statistical Support for the Statistics of Income Division at the Internal Revenue Service from 1989 to 1998 and then worked as Executive Director at Ernst & Young  from 1997-2013. For the past five years she has been and integral part of BDS Data Analytics as consultant with a focus on sampling, research design and surveys.  Her awards include an elected Fellow of the ASA, received the Founders Award of the ASA, as well as elected Fellow of the ISI.
Dr. Batcher's citation reads:

"For distinguished service to NISS serving two terms on the board of trustees and four years as chair of the board.  Serving with constant optimism and confidence in the staff and board."
Nell Sedransk has served NISS since 2005, first as associate director until 2014, then as director from 2015 through 2017, and then director of the Washington, DC office since 2017. 
Prior to her service to NISS Dr. Sedransk served in a wide variety of capacities in the field of statistics.  She was chief of the Statistics Engineering Division at NIST, Gaithersburg, Maryland, was Professor of Statistics at Case Western Reserve University, served as an NSF Program Director and as Senior Staff Fellow at Biometry Branch of NIH.  She has been elected as Fellow of AAAS, ASA, ISI, Sigma Xi, and Phi Kappa Phi. 
The citation for Dr. Sedransk's award reads: 

"For distinguished service to NISS and our affiliates since 2005, serving as director, providing mentoring for post docs and research associates, and leading expert panels to address critical issues."
NISS offers its sincere thanks for the persistence and diligence they have demonstrated in their service to NISS.
Congratulations Mary and Nell!
Monday, August 12, 2019 by Glenn Johnson