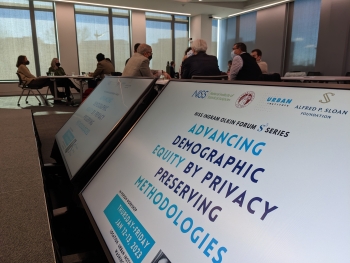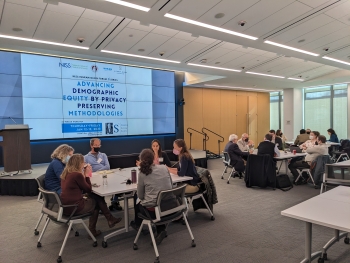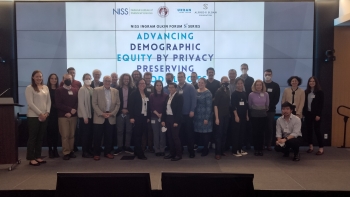 In January 2023, NISS, Vassar College, and Urban Institute hosted an in-person two-day NISS IOF workshop: Advancing Demographic Equity with Privacy Preserving Methodologies at the Urban Institute in Washington, DC. This forum made possible by the generous support of the Alfred P. Sloan Foundation, the incredible organization and management thanks to Jingchen (Monika) Hu and Claire McKay Bowen along with members of the IOF Committee including David Banks, Wendy Martinez, Nancy Flournoy, and our NISS Director Jim Rosenberger. The forum aimed to help improve and strengthen the relationships among privacy experts, researchers (e.g., social scientists, economists, and demographers), data stewards, data practitioners, and public policymakers.
This workshop comes after our pre-workshop webinar held on November 1, 2022 with four panelists from academia, government, NGOs/Think Tank, and data users/practitioners on "Current Challenges and Potential Future Work".
Full details on the workshop can be accessed on the event's main webpage, which includes the agenda for the two days and the list of speakers and participants.
This IOF has three overall components:
Component I: 1.5-hour webinar on November 1, 2022.
Component II: 2-day in-person workshop on January 12-13, 2023.
Component III: White paper / manuscript by August 2023.
The motivation of this Ingram Olkin Forum originally came from an executive order that President Biden signed on his first day in office. This executive order directed federal agencies and White House offices to examine barriers to underrepresented individuals and initiated several efforts to address equity for people of color and underserved communities. The executive order takes an unprecedented step by committing the government to actively pursuing more equitable engagement and outcomes across all agencies and policy areas.
This forum focused on the present issue that statistical agencies in the U.S. do not collect, or release detailed demographic data and statistics due to growing concerns about disclosure risks. This includes people of color with low incomes that are more susceptible to privacy attacks. To address these issues, some propose that agencies review and update their privacy protection methodologies with more modern data privacy and confidentiality techniques. However, as evident in the political discussions surrounding the 2020 Census, there is a lack of communication among policymakers, privacy researchers, and data practitioners about what privacy-preserving measures should be taken and their implications. This situation stagnated the conversation on improving access to more detailed demographic data. Something that many statisticians and even students resonate with.
During the workshop on January 12-13, 2023, organizers coordinated 6 sessions with topics of statistical data privacy methods (synthetic data and differential privacy), challenges faced at federal statistical agencies and data users, applications and use cases, public policy and privacy law, and funding opportunities. Researchers, data practitioners, policymakers, and government officials successfully bridged the communication gap and identified tools and educational materials needed to improve expanding the access to confidential demographic data for better public policy decision-making.
The forum organized working roundtables throughout the two-day workshop in order to facilitate close collaboration among participants that are planned to continue to take place after the workshop. These round tables were not recorded, but notes were taken at each table and will be consolidated in a future report.
Dissemination / Expected Output
In addition to connecting statisticians to public policymakers, the workshop's organizers and participants plan to write a white paper and / or manuscript to send for publication in a scientific journal about the lessons learned and the next steps that the data privacy and confidentiality community should take to foster collaboration and create goals for future work moving forward.
Recognition
Organizers
Jingchen (Monika) Hu and Claire McKay Bowen were the main organizers for this workshop. Monika is an associate professor of statistics at Vassar College and her research focuses on statistical data privacy methods, mainly synthetic data and differential privacy. Claire is a principal research associate in the Center on Labor, Human Services, and Population and leads the Statistical Methods Group at the Urban Institute. Her research focuses on developing and assessing the quality of differentially private data synthesis methods and science communication. Their full bios are available on the workshop's featured event page.
Workshop Sponsor: The Alfred P. Sloan Foundation
The Alfred P. Sloan Foundation makes grants primarily to support original research and education related to science, technology, engineering, mathematics, and economics. The Foundation believes that these fields—and the scholars and practitioners who work in them—are chief drivers of the nation's health and prosperity. The Foundation also believes that a reasoned, systematic understanding of the forces of nature and society, when applied inventively and wisely, can lead to a better world for all.
IOF Committee
For this Ingram Olkin Forum, the forum liaisons from the IOF Committee included Nancy Flournoy, Chair of the IOF Committee and Curators Distinguished Professor at University of Missouri, James Rosenberger, Director of the National Institute of Statistical Sciences (NISS), David L. Banks, Professor of the Practice of Statistical Science at Duke University, Wendy Martinez, Senior Mathematical Statistician for Data Science at the U.S. Census Bureau, and Claire Kelling, PhD Candidate in Statistics and Social Data Analytics at Penn State University.
On-Site Staff
NISS thanks the incredible staff at the Urban Institute for organizing on the grounds catering, AV, vaccination checks, and overall run of the show during the two-day event!
Media
All of the sessions were recorded using the Urban Institute's superb AV system with the phenomenal work by their tech personnel! As this was a workshop paid by the participants, NISS will not be releasing the recordings on YouTube until June 2023. All participants received post-participation access to the recording of the workshop, speakers slides from their presentations, and all attendees/speakers are invited to participate in future working groups on these issues.
We have put together many photos in a slideshow from the workshop over the course of two days. You can find the full slide shows below.
Slideshow of IOF Workshop Day 1: Advancing Demographic Equity with Privacy Preserving Methodologies
Slideshow of IOF Workshop Day 2: Advancing Demographic Equity with Privacy Preserving Methodologies
---
About the Ingram Olkin Forum Series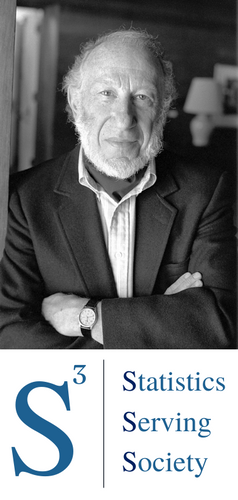 Ingram Olkin (S3) Forums are a series of forums to honor the memory of Professor Ingram Olkin presented by the NISS Statistics Serving Society (S3).  
Each forum focuses on a current societal issue that might benefit from new or renewed attention from the statistical community. The S3 Forums aim to bring the latest innovations in statistical methodology and data science into new research and public policy collaborations, working to accelerate the development of innovative approaches that impact societal problems. As the Forum will be the first time a particular group of experts will be gathered together to consider an issue, new energy and synergy is expected to produce a flurry of new ideas and approaches.
Visit the IOF page for more information: https://www.niss.org/ingram-olkin-forums 
---
Monday, January 30, 2023 by Megan Glenn