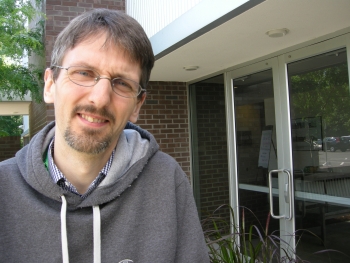 Some of you may remember former NISS postdoc John Aston. He was a postdoc for NISS during 2002-04, and was based at Census Bureau headquarters in Suitland, MD.
John studied at Cambridge University for his undergraduate degree in mathematics, then spent half his time at Imperial College of London and half at McGill University in Montreal, Quebec while pursuing his Ph.D. in statistics. John's expertise was in statistical imaging.
After graduating, John wanted to do something very different. Someone told him about economic time series, which fascinated him, so he wanted to work for the U.S. Census Bureau, but as a non-U.S. national, he could not work for them. Then he heard about NISS and found out that NISS was working on a program for the Census Bureau, so he could be a postdoctoral fellow for NISS but work on time series research for the Bureau.
John really enjoyed working on time series. "It was a completely different environment than I had worked in the past. It gave me a very different perspective." Working through NISS gave John more flexibility to attend conferences and interact with other NISS researchers, as well as continue work on his imaging research.
A side benefit to working at NISS was that John met his wife, Karri, while he was based in the Washington DC area. They are now proud parents of two children, a girl and a boy.
After his time ended with NISS, John took a job as assistant professor for Academia Sinica in Taiwan for four years. He focused mainly on imaging and time series analysis.
John and his wife moved back to England in 2008. He became professor of statistics at the University of Warwick. While at Warwick, he was working on imaging and conducting time series analysis for the UK Office for National Statistics, which is analogous to the Census Bureau. John really enjoys being able to work on such different applications from neuroimaging, to economics, to linguistics, really fulfilling the quote of his academic great-great-grandfather, "The best thing about being a statistician is that you get to play in everyone's backyard."
Currently, John is a full professor at Cambridge. He is happy to be at a university with such historic traditions in Mathematics and Statistics, and also one of the most beautiful cities in the world.
John has been happy to stay active with NISS and SAMSI and has come back to the Research Triangle region a few times to participate in SAMSI programs. He was part of the Analysis of Object Data (AOD) program in 2010-11 in addition to attending the NDA summer program June 2013.
(This article is a reprint from NISS Parameters)
Thursday, April 28, 2016 by Jamie Nunnelly