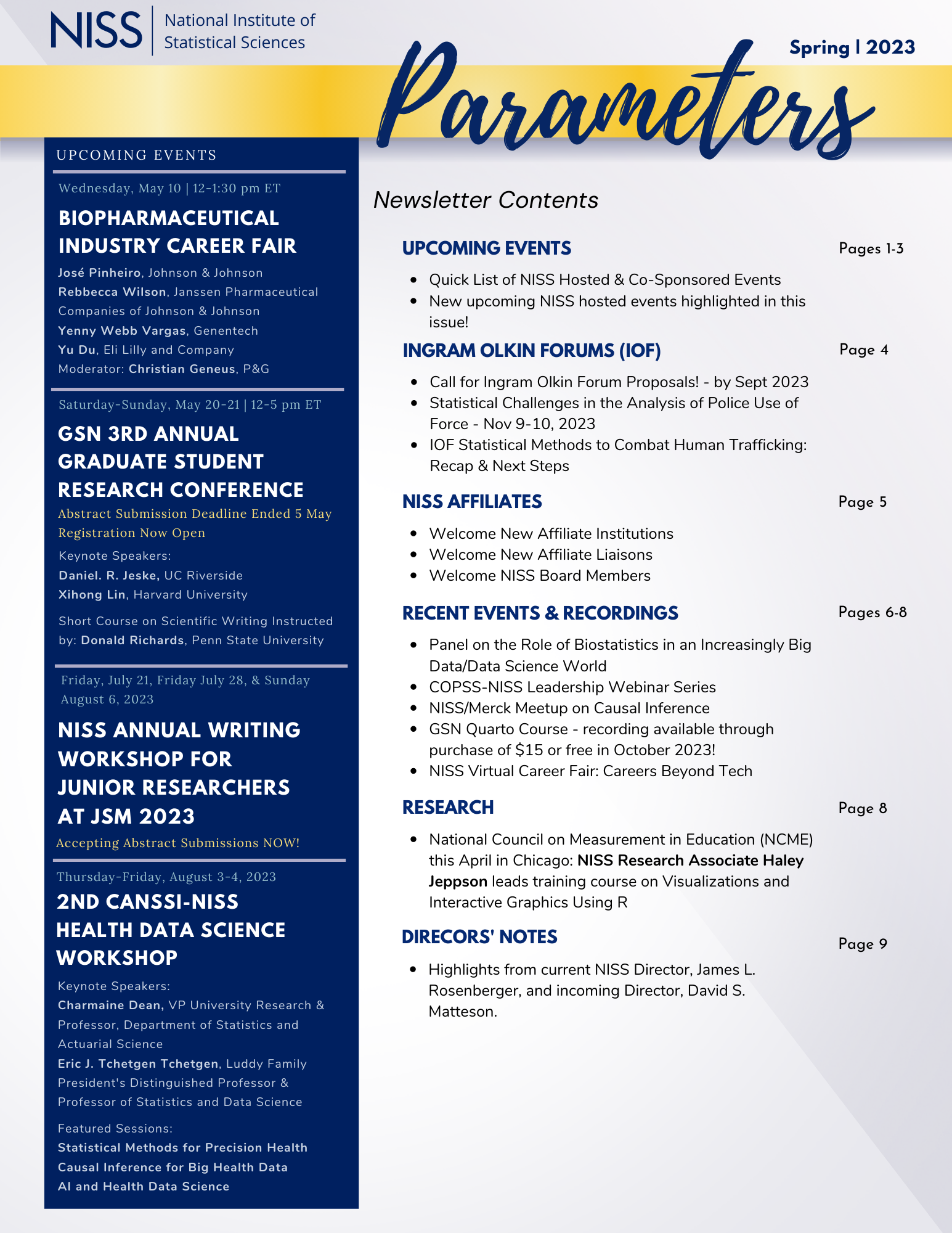 Download the Full PDF version: NISS Newsletter Spring May 2023.pdf 
Highlights for Spring / May 2023
UPCOMING EVENTS:
Quick List of NISS Hosted & Co-Sponsored Events
New upcoming NISS hosted events highlighted in this issue!
INGRAM OLKIN FORUMS (IOF)
Call for Ingram Olkin Forum Proposals! - by Sept 2023
Statistical Challenges in the Analysis of Police Use of Force - Nov 9-10, 2023
IOF Statistical Methods to Combat Human Trafficking: Recap & Next Steps
NISS AFFILIATES
Welcome New Affiliate Institutions
Welcome New Affiliate Liaisons
Welcome NISS Board Members
RECENT EVENTS & RECORDINGS
Panel on the Role of Biostatistics in an Increasingly Big Data/Data Science World
COPSS-NISS Leadership Webinar Series
NISS/Merck Meetup on Causal Inference
GSN Quarto Course - recording available through purchase of $15 or free in October 2023!
NISS Virtual Career Fair: Careers Beyond Tech
RESEARCH
National Council on Measurement in Education (NCME) this April in Chicago: NISS Researcher Associate Haley Jeppson leads training course on Visualizations and Interactive Graphics Using R
DIRECORS' NOTES
Highlights from current NISS Director, James L. Rosenberger, and incoming Director, David S. Matteson.