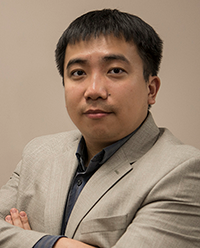 Each year the Bernoulli Society identifies from its members those who are active researchers of mathematical statistics. The main goal of the New Researcher Award is to recognize innovative research by new researchers.  This year, Dr. Lingzhou Xue, Assistant Director of NISS, was selected as one of the recipients of this award.
According to the website, "The applicants for this award were asked to submit a 3-page synopsis of their presentation, along with their CV ...The response to this award call was fabulous - 34 applications were submitted many of which were very strong applications making the selection procedure extremely challenging."
The following individuals were chosen for this award as innovative new researchers in mathematical statistics:
Po-Ling Loh, University of Wisconsin-Madison
Gongjun Xu, University of Michigan
Lingzhou Xue, Pennsylvania State University
Dr. Xue and the other awardees delivered presentations of their work at the 62nd ISI-WSC held in Kuala Lumpur, Malaysia during August 18 - 23, 2019.
Congratulations Lingzhou!
Wednesday, October 23, 2019 by Glenn Johnson