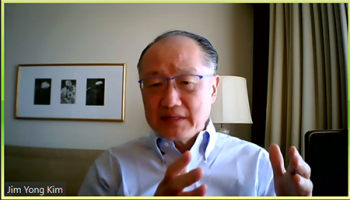 Unlike a keynote address in a large hall, and because of Jim Yong Kim's (Former President of the World Bank) direct involvement in events combatting infectious disease, and his personable, storytelling approach, Zoom framed Dr. Kim as though we were all sitting in his living room and he was talking to a roomful of interested colleagues.  Well, yes, this might have been what we imagined but in fact, over 200 people tuned in to this informal session featuring a man who spoke about his thirty-year career fighting infectious diseases such as multi-drug resistance tuberculosis, HIV, cholera, Ebola and now COVID-19. Dr. Kim did not walk through a slide deck rattling off bulleted points, he simply spoke informally about his experiences and related these in ways that the statisticians and data scientists in the audience would appreciate.
"Dr. Kim's career has revolved always around health, education and improving the lives of the poorest and the most vulnerable."
Bhramar Mukherjee (University of Michigan)
Among his many accomplishments, Dr. Jim Yong Kim earned a medical degree as well as Ph.D. in anthropology from Harvard, was Founding Director of the non-profit Partners in Health, served as Director of the World Health Organization's HIV department, served as President of Dartmouth College, then served as the President of the World Bank Group at the request of President Barack Obama. 
Dr. Kim began the session talking about his experiences fighting a multi-drug resistant tuberculosis outbreak in Peru. While his reception in Peru and with the World Health Organization was not what he expected, he described the public health infrastructure that was in place and the steps that were taken to mitigate this outbreak.  He then related this work to the actions, conversations and steps that were taken to mitigate HIV during the AIDS epidemic, his work with colleagues such as Tony Fauci and related his conversations with then President George W. Bush.
Ebola was the next outbreak that took place in Africa in 2013 and again Dr. Kim commented on how people and organizations reacted.  While at first folks were absolutely swamped with indecision and inaction, he described the steps that were taken to get these cases under control and how difficult this was.  Once again, when COVID hit in 2019 Dr. Kim animatedly described the reactions of the public health community.  At first many seemed to give up because it all seemed so incredibly difficult to do what was needed like contact tracing, testing, etc. However, because of his prior experience with the epidemics that came before, and the resolute energy of colleagues like Bill Foege, Dr. Kim talked about what is needed to have in place, regardless of the difficulty and how other places have managed to track down the virus and tackle these challenges.
"I have such enormous admiration for those of you have been doing such important work on collecting whatever data is available in developing countries and making sense of it."
Jim Yong Kim (Former President of the World Bank)
During the second half of the session moderator Bhramar Mukherjee (University of Michigan) forwarded questions for Dr. Kim to respond to.  Some of these questions included, "Why have some countries done better than others, and how do we synthesize this information moving forward?", "What are your thoughts regarding vaccinations? Vaccine hesitancy? Will we ever get to 95% level of the population vaccinated?", "Could you comment more on the potential role of strategic vaccination in response to surges in transmission? At a larger scale, should we be prioritizing vaccination in Michigan?", "Do you think that vaccinating children and teenagers is a good strategy?" and "How can we use what we have learned during this pandemic to build better public health systems?"  Many of his responses were in the form of stories or recollections of conversations related to what was asked.  For instance, on getting the best possible data in a messy, complex context:
"There were three baseball umpires. The first was a positivist, the second a relativist, and the third a realist. The first umpire was asked, "How do you call balls and strikes?" …"
Jim Yong Kim (relating a story told by his mentor)
If you have not had a chance to sit down, listen to and get to know Jim Yong Kim here is your opportunity.  This man is a breath of fresh air, at the same time knowledgeable and a positive spirit in an era of complexity, misinformation, and challenge.  Do yourself a favor and give this session a view.
Recording of the Session
Friday, April 2, 2021 by Glenn Johnson