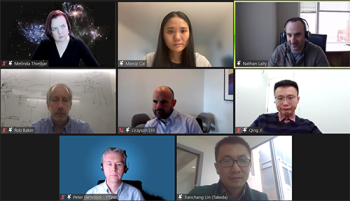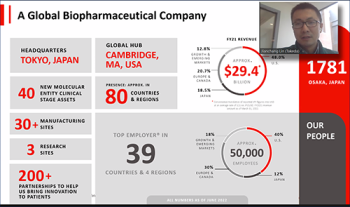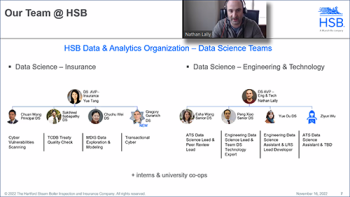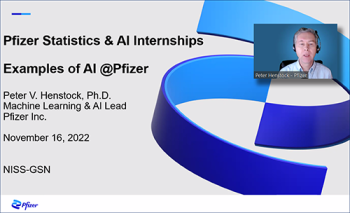 The NISS Graduate Student Network and the NISS Academic Affiliates organized a special event about internship opportunities for graduate students.  This event took place on Wednesday, Novermber 16 from noon to 2 pm and over 150 individuals logged into this free session!
Panelists from a wide variety of corporate backgrounds shared information and advice about internship opportunities within their own companies, but also discussed the type of work, the qualifications that are recommended and tany other pertinent pequirements for these types of positions. Hopefully this advice will comein handy for those looking at deadlines for internship applications at these and other companies.
The panelists that were invited to share included Rob Baker and Qing Ji from Procter & Gamble, Grayson Dill from the Bank of America, Peter Henstock from Pfizer, Nathan Lally from the Hartford Steam Boiler (Munich Re Group), Jianchang Lin from Takeda Pharmaceuticals and Melinda Thielbar representing Fidelity Investments. The moderator for this event was Manqi Cai.  She is a PhD student in Biostatistics at the University of Pittsburgh.
Each of the panelists was given about 15 minutes to share information about their own company, the internships that are available and advice and suggestions regarding what a graduate student should know before applying for an internship.  It was interesting how similar and sometimes how very different these opportunites are.  Understanding the type work that is involved and the possible benefits of spending the time in an internship is important before making an application.
After the speakers gave their presentations the floor was opened up for attendees to ask questions.  Wow!  Those that attended certainly took advantage of having these individuals respond to over two dozen questions!!  Questions addressed the topics of the types of visas that are needed, appropriateness of various academic backgrounds, the role internships can serve in a career path, specific technology and programming skills recommended, along with many, many other questions!
Below please find a recording of the session. Use this so you can review all of the details shared during the conversation that occured during this event.  Also, we have links to slides that were shared by some of the speakers at this event.
Recording of the Session
Slides Used by the Panelists
Rob Baker and Qing Ji (Procter & Gamble)
"Statistics & Data Science Internships at P&G"
Nathan Lally (HSB: A Munich Re Company)
"Opportunities for Internships & Employment at HSB & Munich Re for Graduate Students"
Melinda Thielbar (Fidelity Investments)
Sunday, November 20, 2022 by Glenn Johnson