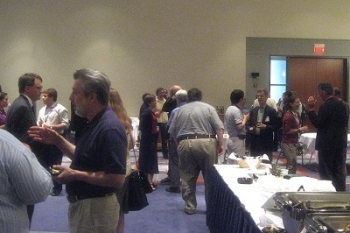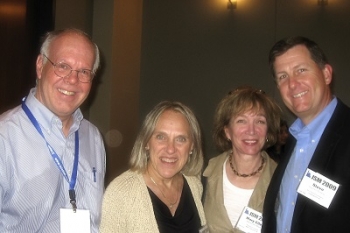 Affiliates Luncheon – Sunday, 30 July, 11a.m. - 2 p.m.
NISS Reception – Monday, 31 July, 6-8 p.m.
NISS EXPO Booth – Go to #104 to see what is new
NISS Spreads Its Wings, the theme for NISS activities in 2017-2018 will be launched at the Joint Statistical Meetings (JSM) Conference, in Baltimore, Maryland, July 29 to August 3, 2017. 
As NISS truly embraces its name – National – the first announcements of expansion will be made at the Affiliates Luncheon on Sunday, 30 July, 11 a.m. – 2 p.m.  Affiliate Liaisons and Junior Liaisons are invited to register on the NISS website (no fee, but advance reservations required for the lunch).  Liaisons wishing to bring prospective new Affiliate representatives as guests to the luncheon are encouraged to contact the Chair of the Affiliates Recruitment Committee, Jim Rosenberger or Randy Freret at NISS. 
The Annual NISS Reception at JSM on Monday, 31 July, from 6 – 8 p.m. will focus on the NISS theme, highlighting both the geographic broadening and the expansion of the scope of NISS activities.
The Jerome Sacks Award for Cross-Disciplinary Research will be presented at the NISS Reception.  This award honors Jerry Sacks, first Director of NISS and distinguished statistician who made significant contributions to the Statistics bridge theory, methodology and collaborative science and engineering. 
Visitors to the NISS Expo Booth - #104 – can meet NISS Board members and senior Liaisons and also chat with Junior Liaisons from NISS Affiliates to learn about NISS activities planned for fall from the east to the west coast. Information about becoming an Affiliate institution will be available, as well as information about personal involvement with NISS either as participant or planner of activities.  Learn about the NISS Postdoctoral Program and pick up news about some past NISS postdocs and their current careers. Cast a vote for the next NISS Explorations Workshop topic! And express your preferences for new opportunities and/or locations for NISS activities.   
"Over the past years, many of the best ideas for NISS have come from informal conversations – the NISS Expo Booth offers a great opportunity for these kinds of dialogues," said Nell Sedransk, NISS Director, adding, "So we encourage people to join us at the JSM to learn more about what we do." 
About NISS
NISS is a national institute that delivers high-impact research in science and in public policy by leveraging the rich expertise of its staff with that of its base of affiliated organizations in academia, industry, and government. NISS works on issues where information and quantitative analysis are keys to solutions and decisions. NISS functions in three ways: as an expert advisor, as a basic researcher, and as a collaborator.
While NISS and SAMSI separated their official relationship in 2016, NISS is committed to continuing the mission and further strengthening of the NISS Affiliates Program through sponsorship of more conferences and increased flexibility in the ways Affiliate Award Funds (AAF) can be utilized. For Affiliates from Academia and from Industry, the latter includes making direct AAF conference support available for Affiliate-hosted conferences and for expanding conferences eligible for travel reimbursement from AAF. This includes all CANSSI-hosted workshops, and all conferences with statistical focus from all NSF-DMS institutes, including SAMSI. New opportunities and enhanced perks for Affiliates will be announced at the Affiliates Luncheon at JSM. 
Important links
Monday, May 15, 2017 by Mearl Colaco