Yili Hong, Assistant Professor at the Department of Statistics, Virginia Tech, received this year's Young Statisticians in Business and Industry (y-BIS) Award. The award recognizes the best paper, based on both content and delivery, presented by an early career researcher at the International Symposium on Business and Industrial Statistics Conference (ISBIS) , which held in June in Bangkok, Thailand. Hong's paper was entitled "A Special Non-homogeneous Poisson Process Estimation for Window-Observation Repairable Systems."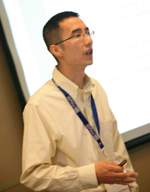 The National Institute of Statistical Sciences (NISS) and the American Statistical Association (ASA) jointly sponsor the y-BIS Award, and together provide the $1,000 cash prize given to the recipient.
Yili Hong received his Ph.D. in Statistics from Iowa State University in 2009, and joined the Virginia Tech Faculty that year. His research interests include reliability, industrial statistics, survival analysis and biostatistics. During 2010, he served as a consultant o the GE Global Research Center.
The names of all the candidates, finalists and winner were announced by ISBIS President (and former NISS Board of Trustees chair) Vijay Nair at the closing ceremony on June 20.
Each of the other finalists for the y-BIS Award received a certificate. They are: Cha-Chi Fan, US Energy Information Administration, Washington DC, USA ; Carolina García-Matos, Universidad Politécnica de Madrid, Madrid, SPAIN; and  Nuttanan Wichitaksorn, University of Sydney Business School, Sydney, AUSTRALIA.
More information about ISBIS 2012 is available at http://www.isbis2012-thailand.org , including photographs, which are at  http://www.isbis2012-thailand.org/gallery-tab/.
Tuesday, July 10, 2012 by Jamie Nunnelly