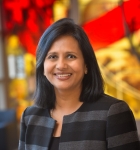 NISS Position:
Vice-Chair, 2022-2023; Elected Board of Trustees Member
NISS Term Expiration:
2024 June 30
Organization:
Eli Lilly and Company
Professional Title:
Senior Vice President and Chief Information and Digital Officer
Aarti Shah, PhD, currently serves as Senior Vice President and Chief Information and Digital Officer at Lilly, a global healthcare leader and Fortune 500 pharmaceuticals corporation. She leads an enterprise-wide global organization with responsibilities for information technology (IT), information security (IS), advanced analytics and data science (AADS), and digital health (DH). She is currently a member of Lilly's executive committee (EC) and reports to the CEO.
Aarti serves on the boards of Northwestern Mutual and NVIDIA corporation. She has served on several non-profit boards, including those of Indianapolis Public Library Foundation, Center of Interfaith Cooperation (CIC) and currently serves on the Indiana India Business Council (IIBC) and as a trustee for Shrimad Rajchandra Love and Care organization (SRLC-USA). Dr. Shah received her PhD in statistics from the University of California, Riverside, in 1993 and MSc in Mathematics and statistics from Gujarat University in 1987.