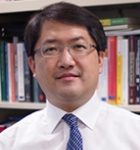 Organization:
University of Virginia
Professional Title:
Associate Professor
Dr. Byungkyu Brian Park is an Associate Professor of Civil and Environmental Engineering at the University of Virginia. He served as a NISS postdoc from 1998 to 2001, where he applied statistical analyses to the validation of computer simulation models in traffic operations.
Between 1988 and 1995, Park earned his B.S. and his M.S. degrees in Urban Engineering from South Korea's Hanyang University. He then moved to the United States, where he earned his Ph.D. in Civil Engineering from Texas A&M University. In 1999, he received the Charley V. Wootan Award for best Ph.D. dissertation from the Council of University Transportation Centers.
In addition to his professorship, Park is an editorial board member for the International Journal of Sustainable Transportation and the KSCE Journal of Civil Engineering. He is also an elected member of the Board of Governors of the IEEE Intelligent Transportation Systems Society.