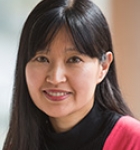 NISS Position:
Appointed to the Board of Trustees and Member of the NISS Corporation by Committee of Presidents of Statistical Societies (COPSS)
NISS Term Expiration:
2023 Jun 30
Organization:
Albert Einstein College of Medicine
Professional Title:
Professor, Department of Epidemiology & Population Health
Dr. Kim's research focuses on statistical methods for designing and analyzing clinical trials and epidemiologic studies (research of the factors affecting health and illness).  Most clinical trials aim to demonstrate the superiority of an experimental treatment relative to a standard treatment or placebo.  An increasing number of trials, however, seek to show that the effects of two treatments on a particular outcome are equivalent, or that one treatment is not inferior to another.  These goals are of interest when the new therapy offers benefits such as reduced cost, toxicity, or invasiveness.  Dr. Kim is investigating the effects of non-compliance, outcome misclassification and measurement error on equivalence and non-inferiority trials and developing new approaches for defining the non-inferiority margin.  Her research interests also include the development of methods for analyzing multivariate and interval-censored survival data.  In addition, she collaborates on studies in cancer, rheumatology, and HIV/AIDS.
Dr. Kim has been head of the Division of Biostatistics since 2003, is Director of the Biostatistics Shared Resource of the Institute of Clinical and Translational Research, and Director of the Center for Quantitative Sciences.  She is a Fellow of the American Statistical Association, on the American Statistical Association Council of Chapters Governing Board, and is a member of the Medical and Scientific Advisory Council of the Lupus Foundation of America.  She has participated on numerous grant review panels for the National Institutes of Health and is currently a member of the NIH Arthritis, Musculoskeletal and Skin Diseases Clinical Trials Review Committee.