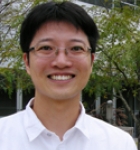 Neung Soo Ha received his Ph.D. in Applied Statistics from the University of Maryland. He attended the University of Illinois in Urbana where he received his Master of Sceince degree in Applied Mathematics. Prior to his master's degree, Neung Soo attended Columbia University for his bachelor of science degree in applied mathematics.
Last year, Neung Soo was a postdoctoral fellow for the Statistical and Applied Mathematical Sciences Institute (SAMSI).
Neung Soo's research interests include small area estimation, survey sampling, analysis of complex survey data with non-ignorable nonresponse and Bayesian computations.