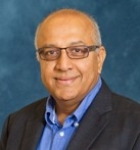 NISS Position:
Senior Fellow
Organization:
University of Michigan
Professional Title:
Professor of Biostatistics
Trivellore Raghunathan (Raghu) is a Professor of Biostatistics and the Director and Research Professor at the Institute for Social Research. He is a Research Professor in the Joint Program in Survey Methodology at the University of Maryland. He is the Director of Biostatistics Collaborative and Methodology Research Core (BCMRC), a research unit designed to foster collaborative and methodological research with the researchers in other departments in the School of Public Health and other allied schools. He is the Director of Biostatistics and Measurement Core for the Michigan CTSA located at Michigan Institute for Clinical and Health Research (MICHR). He is an Associate Director of the Center for Research on Ethnicity, Culture and Health (CRECH). He is a faculty member at the Center of Social Epidemiology and Population Health (CSEPH). He is also affiliated with the University of Michigan Transportation Research Institute (UMTRI). He received his PhD in Statistics from Harvard University in 1987. Before joining the University of Michigan in 1994, he was on the faculty in the Department of Biostatistics at the University of Washington. He continues to be involved in several projects at the Cardiovascular Health Research Unit (CHRU) at the University of Washington. His research interests are in the analysis of incomplete data, multiple imputation, Bayesian methods, design and analysis of sample surveys, small area estimation, confidentiality and disclosure limitation, longitudinal data analysis and statistical methods for epidemiology. He has developed a SAS based software for imputing the missing values for a complex data set and can be downloaded from www.iveware.org.