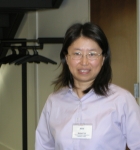 Organization:
College Board
Professional Title:
Psychometrician
Weiwei Cui is an Psychometrician with the College Board. She worked at NISS from 2008-2014. Cui worked with the National Assessment of Educational Progress (NAEP) Education Statistics Services Institute's (NESSI) Division of Assessment.
Prior to NISS, Cui received her Ph.D. in the area of Measurement, Statistics and Evaluation from University of Maryland at College Park, where she performed work on reducing error in mail surveys.  She earned her M.S. in psychology from Beijing Normal University, China. She instructed students at the University of Maryland from 2006-2008, and was a research assistant supported by a grant from the National Science Foundation (NSF) under the supervision of Dr. James Roberts from 2003-2005. In 2001, she was the research fellow for the Health Behavior Unit, Department of Epidemiology and Public Health, at the University College of London, United Kingdom. Prior to her time at the University College of London, she held several quantitative positions at research institutions and universities in China and United Kingdom.
As a postdoc with NISS, she worked with the Statistical Standards Project, where she helped ensure the overall technical validity and processes used in NCES publications.
In her free time, Cui enjoys caring for her daughter and gardening.