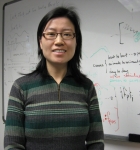 NISS Term Expiration:
2009
Organization:
Normal University
Professional Title:
Associate Professor
Dr. Jasmine Zhou received her Bachelor of Science degree at Fudan University in Shanghai. She came to the United States to get her Master of Science degree from Bowling Green State University in Bowling Green, Ohio, then moved to Boston to get her Ph.D. in Statistics from Boston University. Jasmine is married to Jie Lu and they have two children, Victor Lu and Sophie.
Zhou came to NISS in 2007. Her research involved working on the QT interval, which is an interval on the ECG used to evaluate cardiac safety in drug development and drug approval.
Currently, Zhou is Associate Professor of Statistics at Normal University in China.