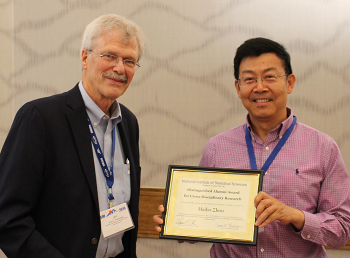 For the past couple of years NISS has been recognizing former NISS Postdocs or Research Associates who have been active after their opportunity with NISS for more than 10 years and have had distinguished careers.  This year's recipient of the NISS Distinguished Alumni Award is Professor Haibo Zhou.
Dr. Haibo Zhou is a full professor with tenure in the Department of Biostatistics at the University of North Carolina, Chapel Hill. He is also the director for the Biostatistics Core at the Center for Environmental Medicine, Asthma and Lung Biology and director of the Center for Environmental Health and Susceptibility, both at UNC.
Dr. Zhou earned his Ph.D. in 1992 from the University of Washington, Seattle and then served as a NISS Postdoc from April, 1993 through December, 1994.  He received the Intramural Research Training Award and became an IRTA Fellow for the Biostatistics Branch, National Institute Environmental Health Sciences (NIEHS), Research Triangle Park, North Carolina, 1995-1996.  He then joined the Department of Biostatistics at UNC Chapel Hill.  He has over 150 refereed cross-disciplinary publications.  He has mentored 11 Postdocs and 9 Ph.D. students. 
Dr. Zhou was an elected Fellow of the ASA in 2010 and has served as associate editor for Biometrics for 15 years.  His research interests are:  Environmental statistics; Survival analysis; Measurement error problems; Biased sampling; Outcome-dependent sampling; Epidemiologic methods; Translational study; Pulmonary disease; Human fertility; Pregnancy outcomes; Early childhood development; Toxicological risk assessment.
NISS is very pleased to confer the 2019 NISS Distinguished Alumni Award to Professor Haibo Zhou!
The citation reads: 

"Honoring his distinguished career, his contributions as a research biostatistician, especially in environmental statistics, outcome-dependent sampling, and reproductive epidemiology."
Congratulations Haibo!
Monday, August 12, 2019 by Glenn Johnson