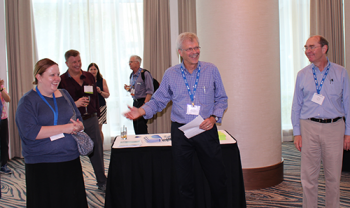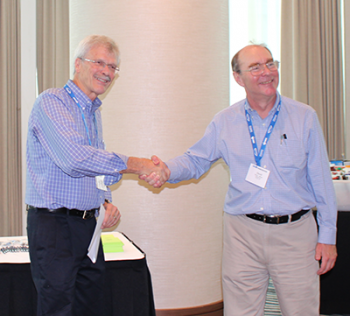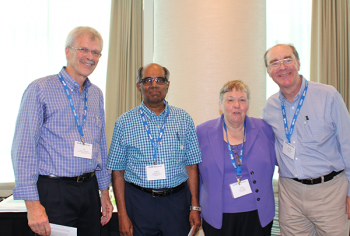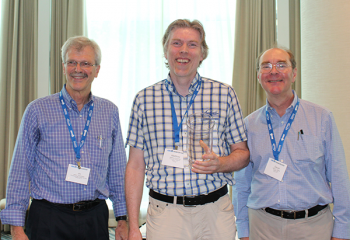 The annual NISS reception established a new beginning.  Although held a few blocks from the convention center, and on a Monday night when there were many other receptions, these were not deterrents for conference participants to attend the combined NISS – SAMSI – MBI Reception in Vancouver.   A good-sized crowd was on hand for this memorable occasion.
James Rosenberger, NISS Director welcomed everyone and introduced David Banks, SAMSI Director and Catherine Calder, MBI (Mathematical Biosciences Institute) Co-Director, who also gave some introductory and welcoming remarks.  While MBI is a new addition to the reception, NISS and SAMSI have had a long history of working together, however the more recent past has shown these two institutions moving in different directions.  These differences were symbolically erased as Rosenberger and Banks publicly and ceremoniously shook hands as a sign of future collaboration.
After welcoming the gathering of friends, Rosenberger took advantage of everyone's attention and presented the first of the two NISS prestigious awards.  He recognized and paid tribute to Matthias Schonlau, the recipient of the NISS Distinguished Alumni Award.  Now a full professor of statistics at the University of Waterloo, Matthias had worked as a NISS postdoc at the AT&T Laboratory in Florham Park, NJ from 1997 to 1999.  Since then he worked at the RAND Corporation both in Pittsburgh, PA and Santa Monica, CA for 12 years.  His research has focused on survey methods, especially web surveys. (Read more …)
Following this presentation, Mary Batcher, Chair of the NISS Board of Trustees, presented G. Jogesh Babu with the Jerome Sacks Award for Outstanding Cross-Disciplinary Research. Babu's work has been central to the development and advancement of a new hybrid field of study in Astrostatistics.  Not only has Babu's research contributed to the analysis of astronomical data, he has also shown a deep commitment to young researchers in the field through conferences and summer schools, through which these and other activities have established a unique and valued collaboration between astronomy and statistics. (Read more …)
The reception buzzed with the excitement of these announcements, and also provided the chance to catch up with colleagues over drinks and good food.
Thursday, August 16, 2018 by Glenn Johnson