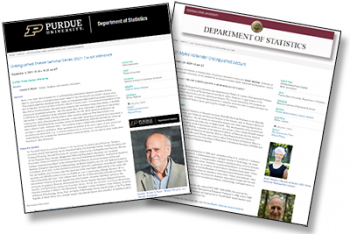 There are two events listed in the Upcoming Events that are being co-sponosored by NISS.  
The Department of Statistics at Purdue is hosting the Distinguished Theme Seminar Series 2021 on Causal Inference and the Department of Statistics at Florida State Univerisity is hosting their annual  2021 Myles Hollander Distinguished Lecture.
NISS as Co-Sponsor - How This Works
NISS Affiliates can choose to use up to $1,000 of their Academic Affiliate Award Fund (AAF) to support events that they host which can include  conference expenses if their event is co-sponsored by NISS.  Affiliates may also want to use their AAF to reimburse affiliate members for travel expenses and registration fees for NISS hosted events, other NISS co-sponsored events, any CANSSI events, any SAMSI events or costs associated with statistical conferences at North American Mathematical and Statistical Institutes.
Co-sponsorship also involves advertising by NISS.  Co-sponsored events are included in the Upcoming Events listing on the NISS website, newsletters and included in mailing out to those on NISS contact lists
In the past NISS has co-sponsored numerous events hosted by NISS Affiliates including:
Analytics Without Borders Conference (Bentley)
Annual Conference on Statistical Issues in Clinical Trials: Electronic Health Records (EHR) in Randomized Clinical Trials: Challenges & Opportunities (U Penn)
Bradley Lecture (Georgia)
Clemson University/University of Georgia Joint Statistics Colloquium
Design & Analysis of Experiments (DAE 2017) Conference (UCLA)
James R. Thompson Distinguished Lecture Series (Rice)
Midwest Statistical Machine Learning Colloquium (Iowa State)
NOGGINS Workshop (Georgia)
Rao Prize Conference  (Penn State)
USCOTS (Penn State)
Women in Statistics & Data Science (WSDS) 2017 (Duke)
Workshop on Biostatistics & Bioinformatics (Georgia State)
WuFest: A Conference on Engineering Statistics & Related Topics (Georgia Tech)
There are many more events hosted by institutions or organizations that NISS also co-sponsors.
NISS Affiliates - As you plan your next event, make sure you consider NISS C0-Sponsorship!
Wednesday, August 11, 2021 by Glenn Johnson