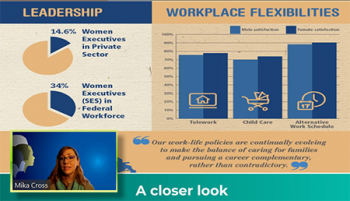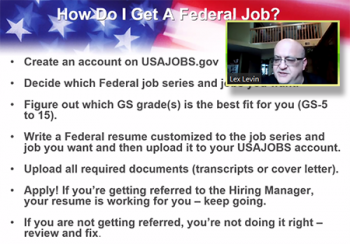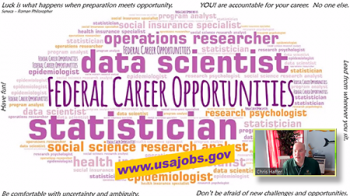 What is it like to work as a statistician in a government agency?  What kinds of opportunities are there for data scientists in the federal government?  More importantly, how do you prepare yourself for obtaining a position? 
For this career fair NISS gathered an incredible trio of speakers.  Not only do they bring extensive experience working in the federal government, but the work of these individuals now focuses on helping others in the process of understanding what skills and attributes are needed and the applying for federal positions.  (see Event page)
The first speaker was Mika Cross (Federal Workplace Expert), "a widely acclaimed workplace expert, speaker, strategist and innovator specializing in interdisciplinary expertise among the areas of innovative global workplace initiatives."  Her uplifting and inspiring overview of her 20+ years of experience in a range of different positions in public service both in and outside the Federal government, including the United States Intelligence Community, made it clear that women play a significant and welcome role in serving the government.  Let's also be sure to mention that she is a veteran of the United States Army, having served as both an enlisted soldier and commissioned officer!  It was from this experience and from her perspective as a working mother that Mika provided insight into the wide variety of career opportunities availability, an appreciation of the flexibilities that come with the working environment and information about the pay gap between men and women in the federal workplace.
Mika was followed by Lex Levin who runs his own Federal resume-writing business, Lex Levin, LLC, that focuses on Federal job seekers at every level.  From his first comments to his last, Lex was all about the specific details of finding a federal position, especially the crafting of a resume that meets the particular needs of the federal government.  He provided details about the different GS levels, the range of Federal salaries in the DC/Baltimore area, and what to expect throughout the application process.  Then, slide after slide of specific details, advice and tips for making your resume work for you by tailoring it to what a government official not only wants but needs to see.  (Check out the example resume Lex shared below.) After hearing Lex, I can't imagine applying for a government position without going through these pointers! 
"The three most important sections of a Federal job announcement are the duties, the specialized experience definition, and the self-assessment questions."
Lex Levin (Lex Levin, LLC) 
The third speaker was Chris Haffer, Chief Data Officer (CDO) and Director of the Office of Enterprise Data and Analytics at the US Equal Employment Opportunity Commission.  His office oversees agency data governance and provides internal and external customers with timely, accurate, bias‐free, and mission-critical data and information.  Based on his 29+ years as a public servant, he provided a compelling description of how government works and what and what not to expect in finding and then working as a government employee.  His advice was straightforward and hard-hitting.  For example, "You are accountable for your career.  No one else!"  Clearly, Chris is dedicated to his profession, holds himself to high standards, and expects nothing less of those that work for him.  
"Be comfortable with uncertainty and ambiguity.  Don't be afraid of new challenges and opportunities."
Chris Haffer, (US Equal Employment Opportunity Commission)
A good amount of time was given to answering questions and moderator Michael Jadoo (Bureau of Labor Statistics) facilitated asking questions for the speakers to address. There were several very interesting questions, including a couple of tricky ones such as: "How do you suggest bridging between general statistical expertise and highly specific deep subject matter agency expertise?", or "How seriously do hiring managers consider qualifications/certificates from Coursera?" Or, "Would you please comment on prospects for older candidates?"  Throughout the session it became clear that https://www.usajobs.gov/ is the main site that candidates must become very familiar with.
If you are even thinking of seeking a position in the federal government then this is certainly a session that you are going to want to review!  Play the recording of this session along with the copies of the slides that the speakers used below. The slides not only provide you with the key points that were offered but also include links and email addresses to additional resources and contacts that should not be ignored!
Recording of the Session
Slides used by the Speakers
Mika Cross, (Federal Workplace Expert)  [https://www.linkedin.com/in/worklifechampionoftheuniverse/]
"Navigating a Diverse and Flexible Career in the Federal Government"
Lex Levin, (Lex Levin, LLC)  [https://www.linkedin.com/in/lexlevin]
"How to Build an Effective Federal Resume" 
Example Redacted Federal Scientist Resume
Chris Haffer, (US Equal Employment Opportunity Commission)
"Experience Working for the Federal Government and Career Opportunities for Data Scientists"
 
Friday, March 12, 2021 by Glenn Johnson